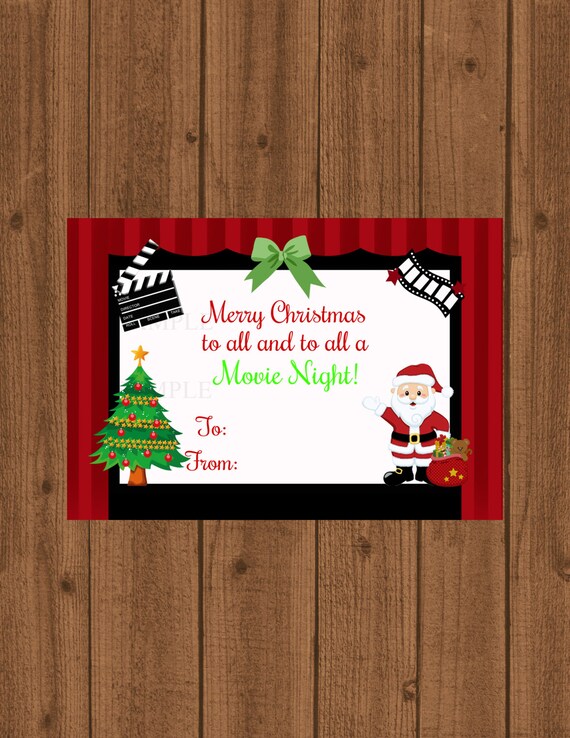 Movie Gift Tag / To all a Movie Night / Redbox Coupon / Stocking Stuffer / Printable Redbox / Printable Christmas / Instant Download
By Sweet Party Wishes
Product Info
Movie Gift Tag / To all a Movie Night / Redbox Coupon / Stocking Stuffer / Printable Redbox / Printable Christmas / Instant Download
Who doesn't love a movie? This listing is for a digital gift tag. Simply fill in the "To" and "From" and attach it to a movie certificate or DVD. Feeling more creative? Tuck a tag into a basket with popcorn and candy. How about adding to the top of a large tub of popcorn and finishing it off with a bow? Attach it to a mug and add some hot cocoa. And to really warm up the adults, add a small bottle of Bailey's. The ideas are endless! The people to give them to are also endless! What could be easier and more practical?
We also have a separate listing for Redbox gift tags in our store.
Our 5" x 3" digital gift tags print two on a sheet, print out our gift tags as many times as you need at no extra charge.
Here are some people who may love a movie night from you:
Neighbor
Mailman/UPS
Babysitter
Hairdresser
Classmates
Secret Santa
Siblings
Aunts/uncles
Grandparents
Christmas stockings for kids
Gift for parent from kids, especially when they have a small budget
College student
Dog Walker
Waitress/waiter
Boss/employee/co-worker
Cookie exchange/swaps
Pink elephant party
Anyone that helps throughout the year
The unexpected person that does something nice
Pay-It-Forward gift
The person that just stops by with a gift
We recommend printing on heavy card stock. Print on a home computer or stores such as Kinko's, Staples, etc. Colors can vary depending on the monitor. 300dpi resolution is used.
Because this is a digital item we are unable to offer returns.