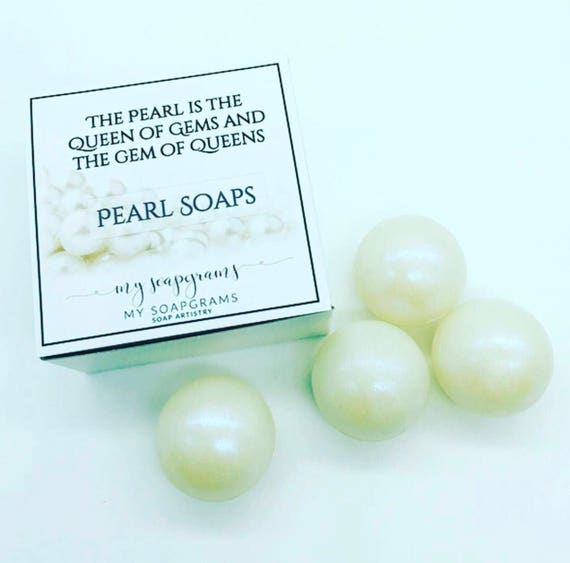 Pearl Soaps Mother's Day Bridal Soap Collection Soap Spheres For Her Soap Pearls
By My Soapgrams
Product Info
I consider my soap more of a gift - a very usable gift!
«·´`·.(*·.¸(`·.¸ ¸.·´)¸.·*).·´`·»
«·´¨*·.¸¸.*My Soapgrams*.¸¸.·*¨`·»
«·´`·.(¸.·´(¸.·* *·.¸)`·.¸).·´`·»
♥´¨)
¸.•´¸.•*´¨) ¸.•*¨)
(¸.•´ (¸.•` ♥ The Pearl is the Queen of Gems and Gem are the Gem of Queens ♥

Amazing Grace Women Philosophy Type Fragrance Oil Truly amazing! The number one selling fragrance for Philosophy. A sparklingly fresh floral-white musk blend that is an exceptional delicate scent loved by women everywhere.
Color: Off White
Scent: Amazing Grace Type
Size: 1.5" Diameter
Weight: 1 oz. each
Packaging: Gift Boxed
Quantity: Four individually wrapped Pearl Soaps
Our soaps are "Detergent Free" glycerin Soaps!
Our Glycerin Soaps gently cleanses the skin without stripping of the natural oils!
Our Glycerin Soaps are free of chemicals, harsh dyes or ingredients that irritate!
Our Glycerin Soaps help retain moisture in our skin!
Our Glycerin Soaps are non-irritating and hypoallergenic!
If you prefer "NO FRAGRANCE" please in message box when ordering!
•Ingredients•
Premium Shea Butter Glycerin soap base(vegetable)
Coconut Oil
Palm Oil
Purified water
Sodium hydroxide (saponifying)
Sorbitol(moisturizer)
Sorbitan oleate (sweetening agent)
Natural Fragrance oils
Caring for your Soap:
Your soap will last much longer if you always use a soap dish that drains well and keep your soap dry between uses.
Great for wedding decorations, wedding party favors, cheap wedding favors, personalized wedding favors, personalized wedding soap favor, party favors, wedding party favors, party favors ideas, favors for wedding guests, wedding shower favors, bridal shower favors, affordable wedding favors, rose wedding favor, flower wedding favor, baby girl shower favors, girl baby shower decorations, cheap baby shower favors, baby boy shower favors, baby boy shower decoration, baby shower party favors, unique baby gifts, unique baby shower favors, baby shower decorations, baby shower gift, baby shower themes, personalized baby shower favors, affordable baby shower favors, rose baby shower favor, flower baby shower favor, kids birthday party favors, first birthday party favors, personalized gifts, birthday party decorations, unique party favors, boys birthday party, birthday party themes, girls birthday party, cheap party favors Wedding Favors, Bridal Favors, Tea Party Favors, rose soap favors, wedding rose soap, rose soap, Gift, Pearls, Pearl Soaps, Soap Pearls