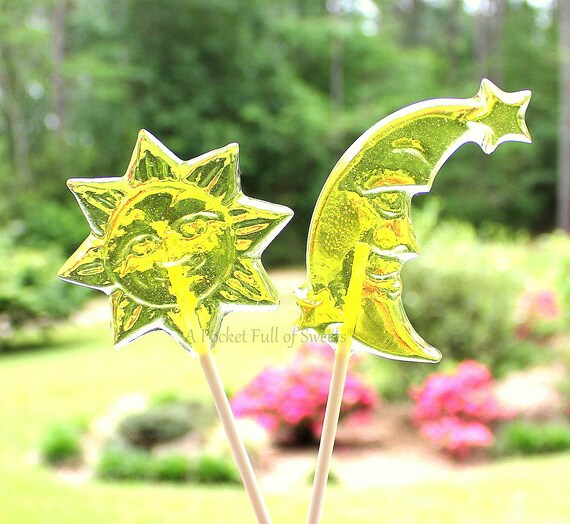 First Trip Around the Sun Birthday, NON GMO, Baby Shower, 10 Party Favors, Celestial, Sun and Moon, Moon Lovers Gift, Barley Pops, Vegan
By A Pocket Full of Sweets
Product Info
• Click on the drop-down boxes above the 'add to cart' button to view shape and flavor options.
- Sun pops, measures 2.75" x 2.75"
- Moon pops, measures: 3.5" x 1.75"
• Each pop comes on a 4.5" stick, individually wrapped and sealed. - see photo #2
• Pops will be YELLOW unless a different color is requested during checkout.
• You may select one color and one flavor per set.
• Custom made per order
• Hard candy
• NON-GMO
• Preservative-Free
• Vegan-Friendly
• Made with organic barley.
Authentic Barley Candy:
*has barley as an ingredient
*has a distinctive glass-like clarity
*is harder than most candies
*lasts a long time
♥ Our Lollipops are created using 100% NON-GMO verified ingredients. Our NON-GMO verified corn syrup is just that, PURE corn syrup. That's it. One simple ingredient with NO added ingredients or fillers such as High Fructose Corn Syrup, Vanilla, Ethyl Alcohol, Salt, or whatever else may be lurking in the majority of the corn syrups found on the market today.