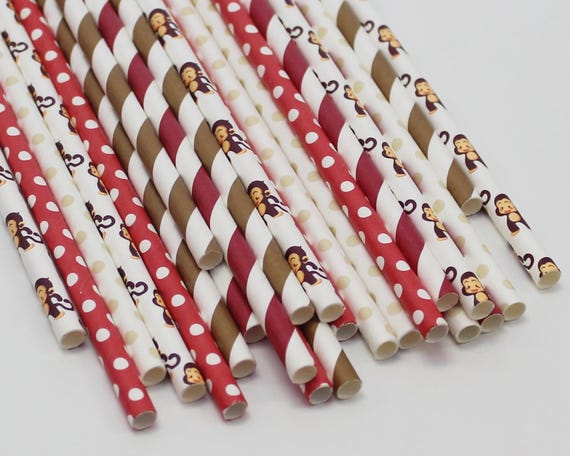 Our Little Monkey, Monkey Paper Straws, Monkey 1st Birthday, Red Brown Straws, Let's Go Bananas, Baby Animal Shower, Sock Monkey, Baby Boy
By Creative Juice Cafe
Product Info
This red and brown monkey paper straw mix is great for mason jars, birthday parties, baby showers, bridal showers or anytime you need to add some style to your party or get together! You can also use them as sticks for cake pops.
This mix consists of monkey, red with white dots, cream polka dot, brown striped, and red striped paper straws.
Use the drop down box to select the quantity of paper straws you need. You can purchase paper straws in quantities of 10, 25, 50, 75, 100, 150 or 200 all for one low shipping price.
These paper straws are
7 3/4" long Food safe & FDA Approved
Earth Friendly & Bio-degradable
Thickest
Strongest
Most Durable
** Please note that paper straw colors can appear slightly different due to various factors: lighting, monitor, manufacturer batch color variation.
Check out over 100 other styles of paper straws in stripe, polka dot, heart and chevron patterns.
▼▼▼▼▼▼▼▼▼▼▼▼▼▼▼▼▼▼▼▼▼▼▼▼▼▼▼▼▼▼▼
Want to get the best price possible? Use the following coupon codes-
SAVE10 ---- 10% off a minimum purchase of $10
SAVE15 ---- 15% off a minimum purchase of $25
SAVE20 ---- 20% off a minimum purchase of $60
(shipping charges are not included in the total you need to spend to get the discount)
▲▲▲▲▲▲▲▲▲▲▲▲▲▲▲▲▲▲▲▲▲▲▲▲▲▲▲▲▲▲▲