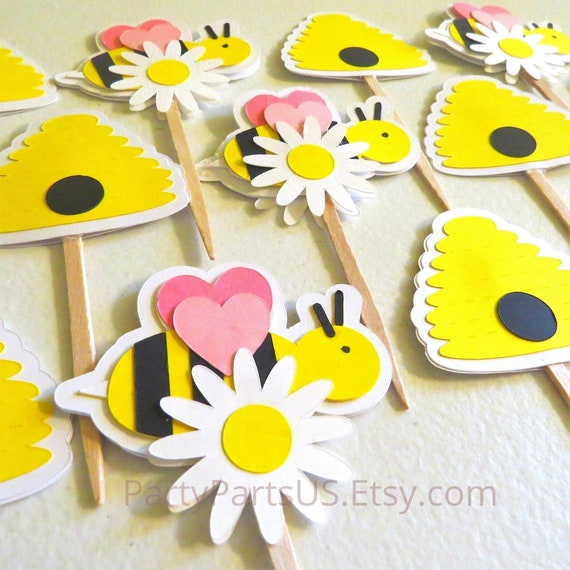 Mommy to Bee Cupcake Toppers, Bee Party Decorations, Beehive Food Picks, Bee Hives, Bride to Bee
By PartyParts
Product Info
These Mommy to Bee cupcake toppers were completely designed and created by hand in our studio. We wanted to offer you bee party decorations that were different from everyone else's versions.
These handmade beehive and bee food picks would be great for any bee theme party. A Bride to Bee is a great theme for a bridal shower as well. Or a Little Honey party theme would be perfect for a First Birthday.
If you like these bee hives and bees, you'll love the coordinating confetti, which you can find with this link:
https://www.etsy.com/shop/PartyPartsUS?ref=simple-shop-header-name&listing_id=1045844934&section_id=15797401
We make each of these toppers by hand, piece by piece, for you. We will soon be offering them with blue wings as well, so keep an eye on our shop. Please let us know if you need them before they are in the store and we will rush our production for you.
With each order, you will receive 12 cupcake toppers (6 bees, 6 beehives)
These toppers have a solid white background, so you don't see a stick exposed on the back.
The size of the bee including the white offset is 2.4 x 1.6 inches.
The measurement with the stick included is about 2.4 x 3 inches.
The size of the bee hive including the white offset is 1.8 x 2.1 inches.
With the stick, it measures about 3 inches long x 2.1 inches wide.
These work great for cupcakes or muffins, but you can also stick them around the top of a cake.
Thank you so much for stopping by PartyPartsUS. Thanks as well for your interest in our brand new Mommy to Bee cupcake toppers.