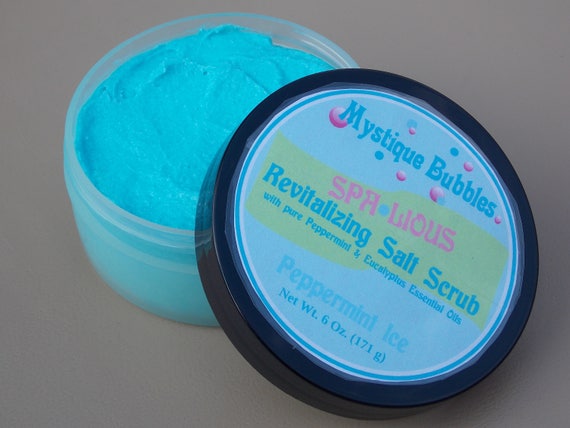 BODY SALT SCRUB - 8 Oz. {Peppermint Ice} - Foot Scrub - Body Scrub - Peppermint Essential Oil - Moisturizing / Exfoliating Salt Scrub
By Mystique Bubbles
Product Info
♥¸.•*´*•.¸♥¸.•*´*•.¸♥¸.•*´*•.¸♥¸.•*´*•.¸♥¸.•*´*•.¸♥
Three in One Product
REVITALIZING FOOT & BODY SALT SCRUB
in "Peppermint Ice" scent.
♥¸.•*´*•.¸♥¸.•*´*•.¸♥¸.•*´*•.¸♥¸.•*´*•.¸♥¸.•*´*•.¸♥
Our scrump·tious Peppermint Ice Salt Scrub
is definitely a treat for your skin!
This revitalizing 3 in 1 Foot & Body Salt Scrub
cleanses, exfoliates and moisturizes all in one
step! The fine European Sea Salts gently
exfoliates, while the glycerin soap cleanse and
moisturizes. The Eucalyptus Oil refreshes, and
the Peppermint oil cools....leaving your skin
feeling and looking its best!
SCENT: "Peppermint Ice" - a blend of pure
therapeutic peppermint & eucalyptus essential
oils (sure to be your favorite pick-me-up!).
WEIGHT: 8 Ounces
DIRECTIONS:
Using the included spatula - apply salt scrub to
dampen/wet skin & massage gently in a circular
motion. Rinse, pat dry, and enjoy your new glow!
Great for feet, legs, arms, hands and elbows.
Use it several times a week for a spa quality
exfoliating!
You can be confident in our products because
YOUR bath is OUR business!
• Vegan Friendly
• Cruelty Free
• NO Phthalates
• NO harsh chemicals
• NO Parabens
• NO Detergents
• For external use only.
• Do NOT use on face - Keep away from eyes!
• Do NOT use on broken open skin (i.e wounds and cuts).
• This product has not been evaluated by FDA and is not
intended to diagnose, treat, cure or prevent any disease
or take the place of medical advice. Always seek medical
advice before using essential oils, if you have a medical
condition. Discontinue use if skin irritation / rash occurs.
• Use within 12 months
• Store in a cool dry place
Mystique Bubbles Boutique uses only the highest grade
ingredients that are safe for our bodies and sustainable
for our environment. I strive to use organic, local, wild
crafted and fair trade ingredients whenever possible.
All of our products are non-toxic, non-GMO,
paraben free, and cruelty free. All packaging is 100%
recycle-able.
All products are handmade in Medford, Wisconsin.
♥¸.•*´*•.¸♥¸.•*´*•.¸♥¸.•*´*•.¸♥¸.•*´*•.¸♥¸.•*´*•.¸♥¸.•*´*•.¸♥
"LIKE" us on Facebook @ MystiqueBubbles
♥¸.•*´*•.¸♥¸.•*´*•.¸♥¸.•*´*•.¸♥¸.•*´*•.¸♥¸.•*´*•.¸♥¸.•*´*•.¸♥