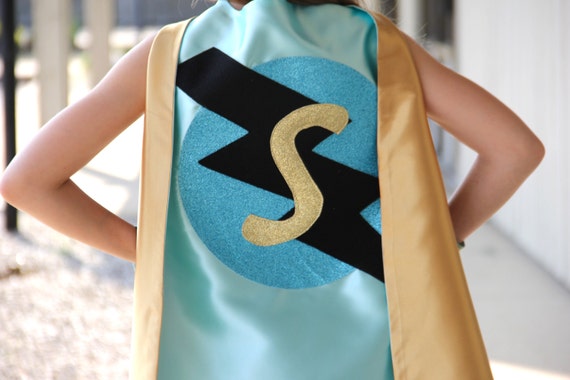 Mint and gold Personalized Sparkle Superhero Cape with custom initial - Ships fast - sparkle design - girl birthday gift
By Superkid Capes
Product Info
ONE fully customized SUPER SPARKLE Big Bolt Super Hero Cape plus your child's custom INITIAL.
This awesome cape comes with a super sparkle design plus sparkle initial! The sparkle does not rub off!
Choose from 3 sparkly combinations:
*Select one of these options ar checkout.
MINT CAPE - with a gold underside, sparkle mint aqua circle, black bolt, and sparkle gold initial.
LIGHT ORCHID CAPE - with a turquoise underside, sparkle turquoise circle, yellow bolt, and sparkle orchid initial.
OR
PURPLE CAPE - with a pink underside, sparkle hot pink circle, silver bolt and sparkle orchid initial.
YOU CHOOSE the initial.
CAPE Construction:
Each cape is made from quality washable satin, double sided with 2 colors. The design is made from high quality sparkle material, sparkle does not rub off, sewn into place securely using high grade sewing equipment to withstand any adventure! Approximately 22 inches long, the safest length for young children. This cape is appropriate for ages 2-8. The neck closes with light weight velcro for safety. The velco is sewn into place to allow for durability.
*****CHECK OUT MORE SUPER HERO CAPES HERE:
https://www.etsy.com/shop/superkidcapes
*****READ BEFORE PLACING YOUR ORDER*****
SHIPPING: Ships in 3-5 Days!
DEADLINES: If you have a specific date you need the item for, or need a rush order, send me a message with your deadline and I will let you know if I can accommodate your timeline. I will NOT guarantee any rush deadlines to be met without a conversation prior to purchase.
*This order included complimentary delivery confirmation tracking and will ship PRIORITY MAIL.