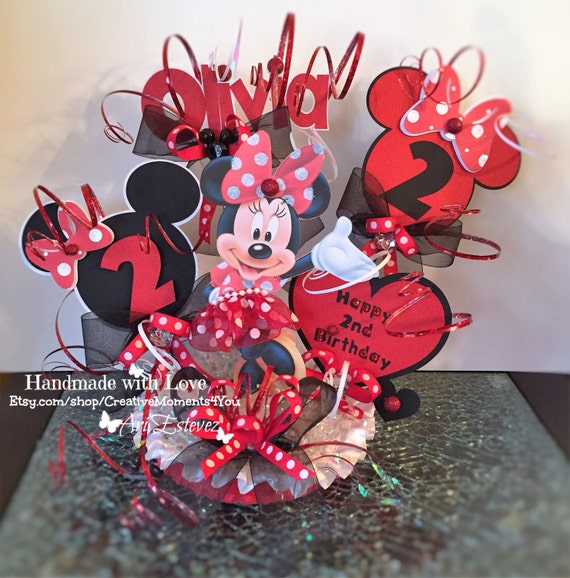 Product Info
This super cute and adorable classic red Minnie Mouse birthday cake topper piece will make your birthday cake stand out with its bling and glitz..
For this Cake Topper Minnie and all Minnie icons items are made of quality cardstock and are glued on dowel rods, i also added a red polka dot sheer little skirt to make Minnie look adorable and i used a foam base, hand made bows, pearls and rhinestones, curly strings spray, and lace.
Dimensions 6" round shape base X 10' height.
**NOTE NOTE NOTE**
IF RIBBONS SHOWN ON TOPPER MAY HAVE TO BE CHANGED DUE TO IF IT'S NOT AVAILABLE, IF SO I'LL TRY MY BEST TO MATCH RIBBON TO A SIMILAR RIBBON..
***NOTE NOTE NOTE***
Don't see your party theme? No problem. Want something else just send me a message with the character you want to use.I'm currently making new cake toppers with different themes. Please contact me with your special requests, we can create just about any theme.
***NOTE NOTE**
IF YOU WANT IT WITH THE CLEAR BASE STAND THERE WILL BE AN ADDITIONAL CHARGE OF $2.00 EXTRA... SEND ME A MESSAGE IF YOU HAVE ANY QUESTION.
***NOTE NOTE NOTE***
***COPYRIGHT DISCLAIMER***
THIS IS NOT A LICENSED PRODUCT. THESE IMAGES ARE FOR PERSONAL USE ONLY. ALL LICENSED COPYRIGHT GRAPHICS AND TRADEMARKS YOU SEE IN THIS PRODUCT BELONG TO THEIR COPYRIGHT HOLDER AND I AM NOT AFFILIATED OR SPONSORED BY THEM. THEY ARE NOT TO BE RESOLD. THESE IMAGES WERE FOUND ON THE INTERNET AND/OR LICENSED PARTY SUPPLY ITEMS AND ARE INTENDED FOR PRIVATE USE ONLY. I DO NOT CLAIM OWNERSHIP OF GRAPHICS USED IN THE PERSONALIZED ITEMS.
** PLEASE NOTE YOU ARE NOT PAYING FOR ANY GRAPHIC BUT FOR MY TIME AND LABOR**
Thank you and Have a Great Day!