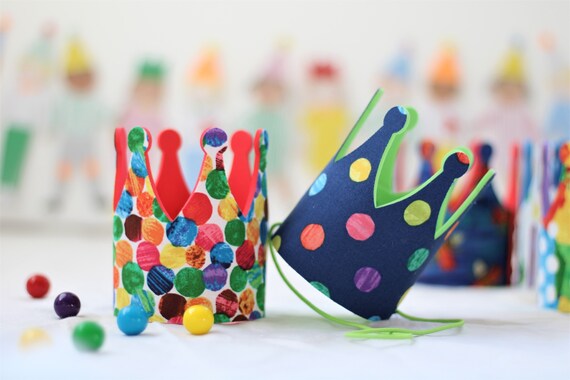 Polka Dots Caterpillar Birthday Crown - Caterpillar Party Hats - Birthday Crown - 1st Birthday Crown
By i Crown You
Product Info
These sweet mini party crowns will add the perfect touch to your party celebration. Smiles guaranteed!
Made with assorted Hungry Caterpillar fabrics and backed with eva-foam. Each crown comes with an elastic cord or satin headband. Colors will match the crown color that you choose.
The fabric used for this crown was re-purposed from a backdrop used in a school play.
CROWN, ELASTIC AND HEADBAND COLORS:
Please add color choice in note section.
If no color is chosen, random color will be sent.
Red
Blue
Orange
Yellow
Pink
Purple
Green
*Placement of pattern on fabric will vary on each crown*
*Food fabric placement will have caterpillar with watermelon or muffin*
Crown measures 4" height and 3" diameter when assembled.
SHIPPING:
All orders ship within 3 business days. Crowns will ship flat. Easy assembly.
FOLLOW US!
Instagram: Facebook: @LouLouMacPARTYCROWNS
>>> LouLou Mac Designs, copyrighted, 2011-2020 © all rights reserved ® my designs & photographs are the property of LouLou Mac Designs, they may not be duplicated in whole or in part by any persons or entities without prior expressed consent by me, the creator. All items may not be resold without prior permission from LouLou Mac Designs.