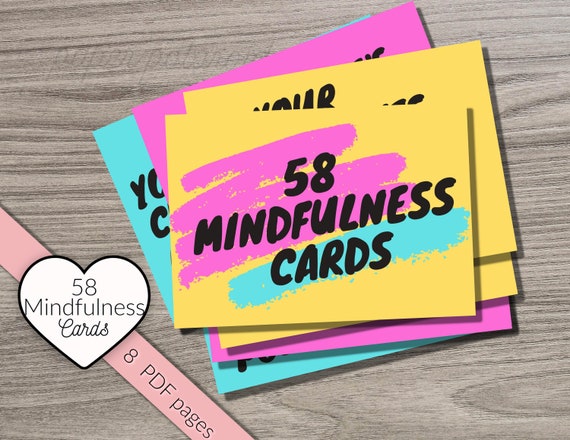 Mindfulness cards 58 Affirmation cards printables. Self Help Cards DBT BPD PTSD anxiety depression. Spriritual zen, mindful living cards
By Paper Polaroid
Product Info
♥ Hello there! Thanks for stopping by :)
Mindfulness, at its essence, is simply being present. This means paying attention to what is happening right now.
Without judgment. Without overthinking. Without invalidating your experience.
Mindfulness is just being willing to show up to the present moment.
It is acceptance of the present moment.
It sounds simple, but most people spend a very small portion of their day mindfully engaged in their lives.
We usually tune out our actual experience, and get distracted by thoughts about our experience.
Most of us get so conditioned to engaging with our thoughts rather than with reality, it is very easy for us to lose sight of what is actually happening to us, and consequently, how best to handle what is happening to us.
(OBSERVE WITH NO JUDGEMENT)
These 58 cards can help with observing mindfully your emotions without judging them. With mindfulness, you simply observe what comes up with the emotion. You notice a feeling of your face flushed. You notice a lump in your throat. You notice all of the experiences that are the emotion, and you do so not with the intention of suppressing them, but in the service of accepting each and every one of them unconditionally.
Item is an INSTANT DOWNLOAD that contains 8 PDF pages (58 cards) cards measure 3.6"x2.6", high quality files as pictured in listing.
You can print them as large or as small as you need them to be.
PLEASE CONTACT ME WITH ANY QUESTIONS YOU MAY HAVE !
No physical item will be shipped.
TERMS OF USE:
*NOT FOR COMMERCIAL USE
*Only For Personal Use
*DO NOT resell or share work
*Unlimited amount of personal copies can be made
©2018 Paper Polaroid. Copyright Paper Polaroid
All designs, images and text are copyrighted and can only be used for personal uses ONLY, and CANNOT be stored,reproduced,or used for commercial reproduction or resale or used.