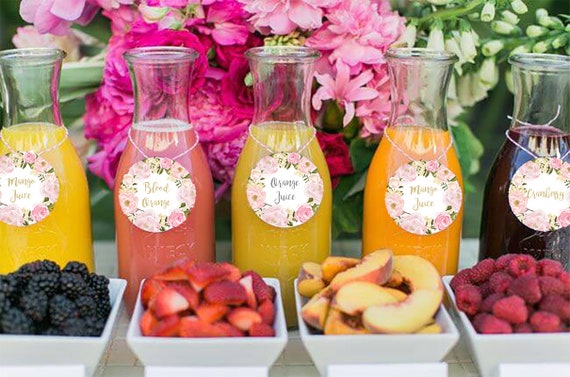 Mimosa bar tags, juice bar tags, Mimosa Bar Juice Tags, mimosa Bar Drink Tags, Hanging Juice Tags, bridal shower tags, drink tags, printable
By Whim and Willow Studio
Product Info
***PLEASE READ THIS LISTING IN FULL - This listing is for a digital template that you will edit online using the Templett Web Application that once edited you will download and print at your preferred local print shop. YOU WILL NOT RECEIVE A PHYSICAL SIGN, NOTHING WILL BE SHIPPED TO YOU***
YOU WILL BE PERSONALIZING THIS SIGN TEMPLATE YOURSELF USING YOUR BROWSER. YOU CAN CHANGE THE FONT COLOR AND WORDING.
PLEASE TRIAL Templett prior to your purchase to ensure you are happy to edit them yourself. To try the editing app before purchasing copy and paste this url into your web browser:
https://templett.com/design/demo/Ourdemos/289704,
In placing your order, you are agreeing that you are aware you will be editing the names of the juices yourself using your computer browser and the instructions provided with your purchase.
The matching Mimosa bar sign can be found here - https://www.etsy.com/au/listing/349264346
PLEASE NOTE - This is one of our editable templates, please be aware when purchasing with other items that these ones may be PREMADE instant download files, so are NOT editable, or are files that I will need to create for you as we are still working to automate our files. PLEASE read the listing descriptions for details.
THE LINK TO YOUR TEMPLATE WILL EXPIRE 3 MONTHS AFTER PURCHASE
═════════════════════════════════
WHAT WILL I RECEIVE?
An editable 8.5x11" page template with SIX 3.5x.35" tags to If you require more than 6, no problem! Complete you first 6, save the file and create your next 6 :)
Once printed you will cut the tags from the template with scissors. I don't recommend the use of Avery Labels for these, the reason being that home printing won't replicate the gold well, where paying $1 at your local print shop per page of 6 will.
Template in gold and grey font to edit in your computer browser in BOTH pink and blue. You will also receive FREE THANK YOU TAGS, to instantly download directly from Etsy!
═════════════════════════════════
WHAT CAN I EDIT?
The font-personalize it with the juices you will be serving. The font size, color, placement, change the font is you like.
═════════════════════════════════
WHAT CAN'T I DO?
You can't change the size of the document, although you can ask your local print shop after downloading to do this before printing.
You can't change the flower colour or artwork. You can't change the font colour on this particular sign sorry.
You can't access it via a phone or tablet - you need to use a computer
You can't use Chrome to access the template, Templett and Chrome don't work well together so please use a different browser on this occasion.
═════════════════════════════════
**Shower signs***
Bridal shower sign- https://www.etsy.com/au/listing/455531992
Bridal Shower Photo prop frame - https://www.etsy.com/au/listing/569434070
Bachelorette welcome sign - https://www.etsy.com/au/listing/454491918
Bachelorette photo prop frame - https://www.etsy.com/au/listing/583236269/
Hens Party sign - https://www.etsy.com/au/listing/454491262
HENS PARTY photo frame prop - https://www.etsy.com/au/listing/583238919
Seating chart - https://www.etsy.com/au/listing/475381622
Wedding countdown - https://www.etsy.com/au/listing/386394806
Mimosa sign - https://www.etsy.com/au/listing/349264346
Small table signs Bridal shower GOLD - https://www.etsy.com/au/listing/469385845
Small table signs Bridal shower GREY - https://www.etsy.com/au/listing/287080407
Bridal shower invitation -https://www.etsy.com/au/listing/400440595
Make yourself the addressee sign - https://www.etsy.com/au/listing/489393617
Custom 8x10 or 5x7- https://www.etsy.com/au/listing/291964583
Wishing well signs - https://www.etsy.com/au/listing/504786767
Selfie station sign - https://www.etsy.com/au/listing/519136034
EDITABLE place cards - https://www.etsy.com/au/listing/490252373
EDITABLE Menus - https://www.etsy.com/au/listing/489195231
Guest Book signs - https://www.etsy.com/au/listing/475899264
Table numbers 1-20 - https://www.etsy.com/au/listing/490202045
Guest Book signs - https://www.etsy.com/au/listing/475899264
***Games***
Advice for the bride cards- https://www.etsy.com/au/listing/385013686
Rings game - https://www.etsy.com/au/listing/466130634
Bridal bingo - https://www.etsy.com/au/listing/455400834
What's in your purse game - https://www.etsy.com/au/listing/488879597
Recipe cards and inserts - https://www.etsy.com/au/listing/475381326
Who am I game - https://www.etsy.com/au/listing/476705306
How many kisses - https://www.etsy.com/au/listing/491289818
Lavender addressee signs - https://www.etsy.com/au/listing/515263893
Date night ideas game - https://www.etsy.com/au/listing/517291737
PHOTO PROP FRAME - https://www.etsy.com/au/listing/583238919
Looking for a physical gift for the bride to be or your bridal party? Check out our sister shop, Juniper & Grace for matching gift ideas.
From Miss to MRS Necklace - https://www.etsy.com/au/listing/582077570
Bridesmaid proposal earrings - https://www.etsy.com/au/listing/594810127
BABY SHOWER COLLECTIONS
For more in the PINK collection
***signs***
For more in this collection :
Baby shower sign - https://www.etsy.com/au/listing/287064905
Small table signs baby shower GREY - https://www.etsy.com/au/listing/273566862
Small table signs baby shower GOLD - https://www.etsy.com/au/listing/469389839
Mimosa bar sign - https://www.etsy.com/au/listing/349264346
Baby shower invitation - https://www.etsy.com/au/listing/400435777
Create your own sign - https://www.etsy.com/au/listing/291964583
Make yourself the addressee sign - https://www.etsy.com/au/listing/475897278/
Guest Book signs - https://www.etsy.com/au/listing/475899264
MOMosa sign - https://www.etsy.com/au/listing/512326124/
Selfie station sign - https://www.etsy.com/au/listing/519136034
Photo frame prop - https://www.etsy.com/au/listing/569440922
***Games***
Guess baby's birthday - https://www.etsy.com/au/listing/473254555
Advice for the Mom/mum to be cards- https://www.etsy.com/au/listing/386401502
What's in your purse game - https://www.etsy.com/au/listing/488879597
Books for baby invite inserts - https://www.etsy.com/au/listing/237817072/
Dear baby cards - https://www.etsy.com/au/listing/476683608
Late night diapers - https://www.etsy.com/au/listing/493337413
Clothes pin game - https://www.etsy.com/au/listing/483697646/
How many kisses - https://www.etsy.com/au/listing/491289818
Diaper raffle tickets AND sign - https://www.etsy.com/au/listing/521259055
Artwork by Createthecut
Bridal shower tags, baby shower tags, shower drink tags, Mimosa bar tags, juice bar tags, Mimosa Bar Juice Tags, mimosa Bar Drink Tags, Hanging Juice Tags, bridal shower tags, drink tags, printable mimosa tags, printable juice tags, hanging juice tags, hanging mimosa tags,
[id:289704,289687,336328,339109]