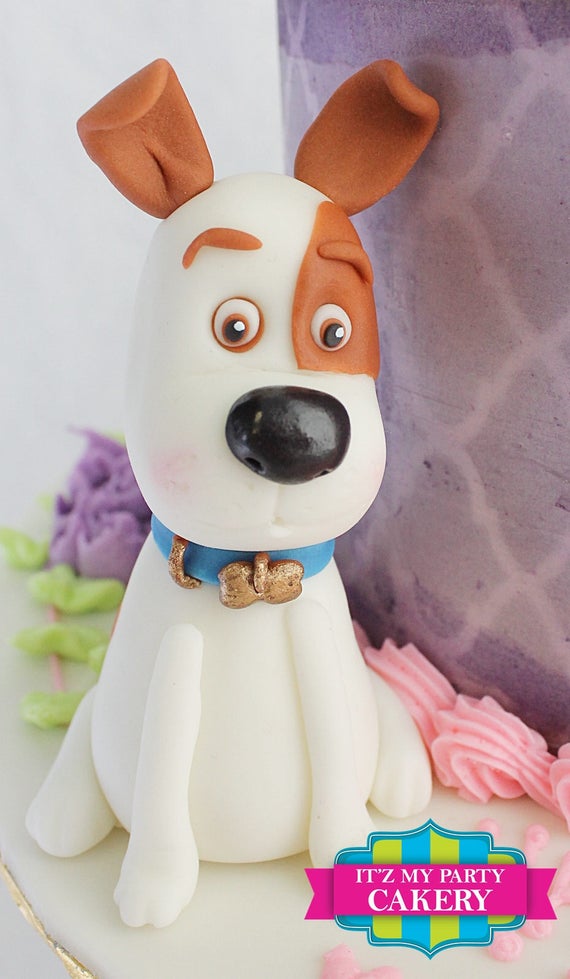 Product Info
This Max (Secret Life Of Pets) cake topper will fit perfectly on top of a 6" cake up to a 10" cake. It is approximately 3.5"-4.5" in height and approximately 2.5-3.5" in width. (Shown in listing without a platform) Other dog is shown on platform.
You can sit the topper directly onto your cake surface or order it with a platform. (Please note, based on how your cake is finished, there may be buttercream, frosting, etc. residue left on the topper, which may or may not adversely affect it's integrity if you want have it as a keepsake. We suggest purchasing it on a platform if you want to keep it indefinitely.
The platform is approx. 4-4.5 in diam. and is finished to compliment the character topper or you can ask for customized colors. We also add a ribbon trim around the platform to finish it off nicely. If you order the topper on a platform, the topper will be secured on the top surface of the platform, all you need to do is set the platform onto the top of the cake, and simply lift off of the cake when you are ready to cut your cake.
He is handcrafted, one of a kind. Poses may vary slightly from figurine to figurine. Made from sugar paste. He is completely edible, however, we think he is too cute to eat!
He is the perfect keepsake when the party is over, and will last for years to come!
No special care instructions are needed except for an occasional dusting, however, please keep away from direct sunlight, direct heat, and keep from getting wet.
PLEASE NOTE: Cake toppers take a minimum of 7 days to make. Please be sure to factor this in when ordering for a specific date. We suggest ordering well in advance to ensure we are able to complete your order when you need it.