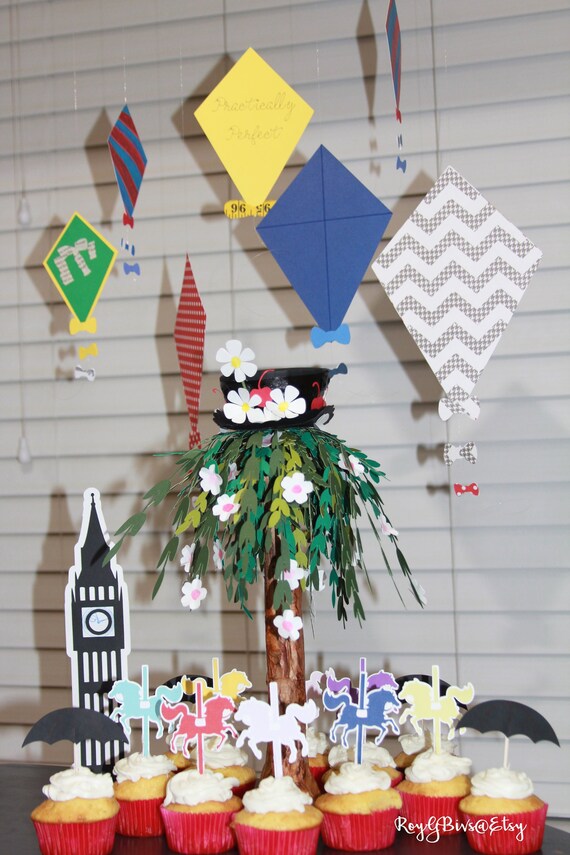 Product Info
Mary Poppins Cherry Tree Centerpiece
One of a kind creation
A practically perfect table piece to help create your magical Mary Poppins themed party on cherry tree lane. It looks fantastic with cupcakes or other fun party goods placed underneath the canopy of the tree.
Created from layers of different kinds of papers. Sturdy and stands 16" tall! The base is 2.80" wide x 2.80" wide. The canopy spreads out 9".
The top canopy is created from multiple shades of green papers and includes roughly 120 strands of leaves. Hand painted paper cherry blossoms are placed throughout the canopy.
The top is Mary Poppins Black hat, also created from cardstock and embellished with cherries and hand painted paper daisies. Stands 2" tall and 4" wide. The daisy up front is 3" tall from base of hat.
The trunk of the tree, I'm not going to lie, I nailed the look! It looks and feels like tree bark. Layers and layers of tea soaked papers placed and then inked and hand painted. It's awesome.
The photos are examples of others I have made, but I can make you one just like it!
Check out my shops pinterest page, www.Pinterest.com/roygbrilliant Follow me!