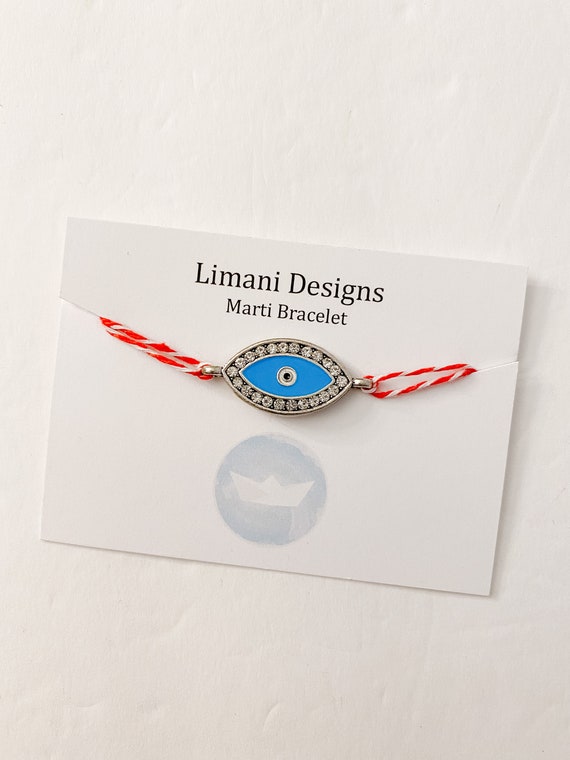 Marti Bracelets Sparkle in Your Eye Large Charm Limani Designs
By Limani Designs
Product Info
Large bright blue with sparkly detail evil eye charm.
We are so EXCITED to share our newest offering on our Etsy shop; The "Marti bracelet"!
These little bracelets are an ancient custom for the beginning of Spring. The name comes from the Greek word for the month of March, "Martios".
From March 1st, it is a tradition to wear a bracelet made of twisted white and red thread. The white symbolizes purity, and the red color stands for life and passion.
It is worn the entire month, if it doesn't fall off on its own, it is removed on the last day of March. There are different customs all over Greece on what to do with the bracelet at the end of March. Some hang the bracelets on fruit trees, so the tree will remain healthy or as Angie did growing up, burn it in the fires on June 24th. In some regions you can remove the bracelet when you see a swallow returning for spring, so the bird can use the thread to build its nest.
The 1st of March also indicates the beginning of Spring in Greece, and the hope for warm days and a lot of sun. Therefore, wearing the Marti bracelet also means you are protected from the burning sun.
These make for a great gift. Share your photos with us on Instagram @limanidesigns and @limanidesignsfloral
xoxo,
Angie and Eleni