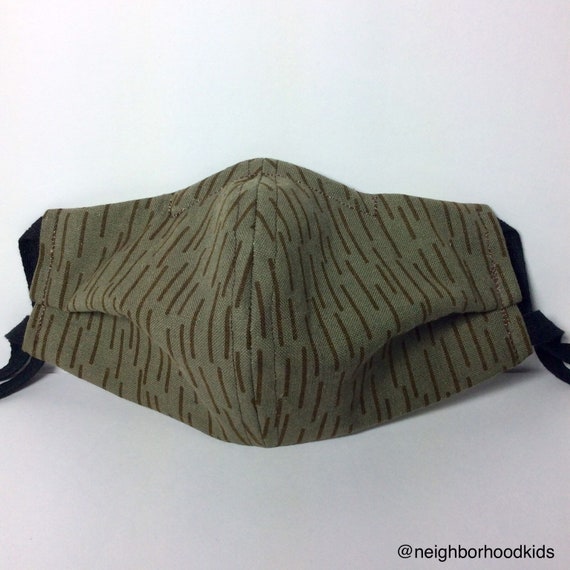 RAIN Camo Face Mask with nose wire. Adult/ Kids US Made 100% Cotton Washable/Reusable. Ready To Ship.
By Neighborhood Kids
Product Info
Handmade and sewn in the US. Great quality and fit. Masks are topstitched with 2 layers (outer and lining) with tie straps. The nose has a wire reinforcement, shape to your preference. Use when cleaning, traveling, dusty areas or as a protective accessory. For maximum protection, wash your mask regularly. Machine washable, reusable, machine dry or lay flat to dry. We suggest to wash and dry before use. Made from a safe and smoke-free home.
MASK MATERIALS:
100% Cotton Outer & Cotton Lining
STRAPS (Choose):
100% Cotton ½" Twill Tape
OR
Latex-Free elastic straps.
**We produce our masks with straps made of cotton or polyester. Some elastic is made with latex.
If you have an allergic reaction to latex, you may want to consider an alternative to elastic.
SIZES:
Adults: LARGE (9 wide x 5 ½" tall
Top Straps 16" Bottom Straps 14"
Ear Straps 7"

CARE INSTRUCTIONS:
Machine washable, machine dry on low or line dry. It can be washed daily.

DISCLAIMER:
Please note that our masks are NOT medical-grade masks, nor a substitute for N95 or surgical masks. Should NOT be used instead of N95/sterile medical masks for medical purposes. We do not make medical claims in regard to the use of our masks. Please consult your medical professional to learn more about medical masks and how you can obtain one. We do not take any responsibility if our masks are used for purposes they were not created for.
OTHER LISTINGS:
https://NeighborhoodKids.patternbyetsy.com
Please be safe and take care of yourself and your loved ones.
Best Regards,
Neighborhood Kids