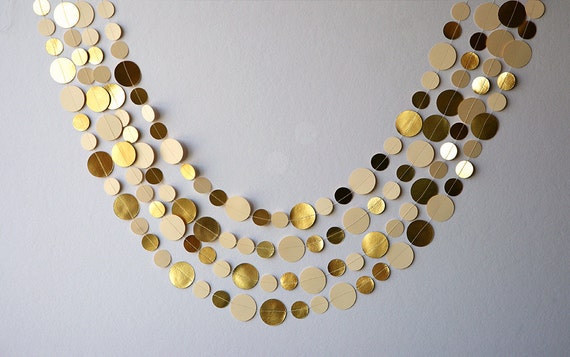 Gold blush garland, Gold, blush wedding decorations, Bridal shower, Gold beige garland, Golden party, Wedding decoration, KMCG-8513
By TransparentesDecor
Product Info
ONE ORDER = ONE STRAND.
All the pictures in this shop (except sets or specified listings) show ONE SINGLE strand, usually of 10 ft.,15 ft. or 20 ft. displayed making beautiful figures as idea of how you can use your strand. In example, if you chose a 5 ft. long strand, you will need more than ONE to replicate the picture figure. Contact me if you have any question. Thank you!
Gold blush garland, Gold, blush wedding decorations, Gold blush wedding garland, Gold beige garland, Golden party, Wedding decoration
Add a touch of glamour to any room with this wonderful garland. It is the Metallic Golden & Blush version of the gorgeous 'Golden Coinage' garland.
This 100% handmade garland consists of numerous golden circles, cut to size then stranded with love. The result is a cascade of shimmering golden hues that reflect the light to give a warm glow to any space, whilst showing that you have a taste of the exotic.
The 'Metallic Golden & Blush Coinage' garland is perfect for weddings, golden anniversaries or any occasion that requires that 'Midas' touch.
★ ITEM DETAILS
Circle paper garland.
Material: cardstock.
Color: metallic gold and blush
Length: Price per strand of the length of your chose. Use the drop down menu to chose please.
Garland images: one single 15ft. strand with 1in + 2in circles making waves or loops.
Circle's size: please chose from the drop down menu.
★ CUSTOM ORDERS
Do you have something in mind that isn't shown? I want you to be happy so please feel free to contact me to discuss your requirements further.
★ SHIPPING
Ships properly protected.
To return to the storefront click here:
http://www.etsy.com/shop/TransparentEsDecor
◘◘◘◘◘◘◘◘◘◘◘◘◘◘◘◘◘◘◘◘◘◘◘◘◘◘◘◘◘◘◘◘◘◘◘◘◘◘◘◘◘◘◘◘◘◘◘◘◘◘◘◘◘◘◘◘◘◘◘◘
★ Please be aware that the photographic process and different screens calibration depict color variation.
★ International orders. Buyer will pay any taxes or costs of customs, if there is some.
★ This is not as toy! Keep away from children and fire.
◘◘◘◘◘◘◘◘◘◘◘◘◘◘◘◘◘◘◘◘◘◘◘◘◘◘◘◘◘◘◘◘◘◘◘◘◘◘◘◘◘◘◘◘◘◘◘◘◘◘◘◘◘◘◘◘◘◘◘◘
Happy decor!