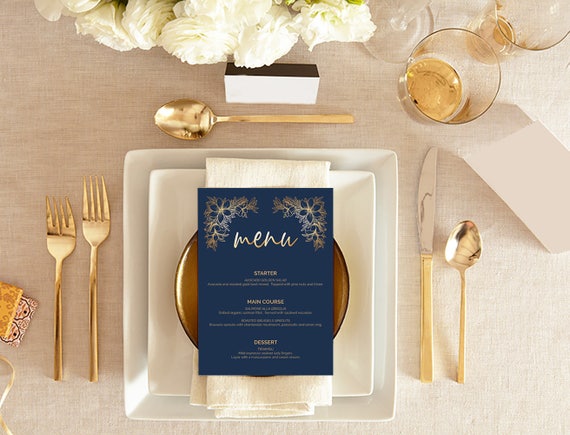 Luxury Navy Gold Wedding Menu Place Card Template Printable Download, Editable Classic Wedding Menu Place card - Luxury Navy Gold : IDB007H
By InLove Digital Design
Product Info
*** Luxury Navy Gold Series : 5"x7" Wedding Menu Place card Template (SKU = IDB006H) ***
●● This is an Instant Digital Download for editable PDF file(s). Only Digital template file(s) will available to download once payment is confirmed. Require Acrobat Reader DC to edit and NO PHYSICAL item will ship to you. ●●
Tired of typing and your life is now busy ?? Or want to add some more design from our design ??
Let's us create for you at starting price of $5.00 ::: http://etsy.me/2nSJuUD
♥ - ALL MENU ITEMS - Please visit the link : https://etsy.me/2JACNDf - ♥
---------- P R O D U C T S ----------
● Luxury Navy Gold Single flat-side of Wedding Menu / Placed card - 5" x 7"
---> 2 cards per a page on US Letter
---> Large editable area in selected area (as shown in item photo)
● Luxury Navy Gold Single flat-side of Wedding Menu / Placed card - 5" x 7"
---> 2 cards per a page on US Letter
---> Large editable area in selected area (as shown in item photo)
● Navy Blue Backing Pattern
● Editing & Printing tips
Remark :: This design uses gold effect, which is made with a computer program to imitate gold. To achieve the best quality I would advise to print it at a shop or photo lab on photo-grade paper.
NOTE : If you need a photo file to print at photo lab, It's our pleasure to do more work on it. Please add this listing, http://etsy.me/2nSJuUD , with exact quantities to your cart and left your note to us about your requirement in "Note to seller".
---------- D E T A I L S ----------
● Printable "Luxury Navy Gold Wedding Menu card Template" with Backing pattern as in 2 PDF files
● "Editing Instruction" as 1 PDF file
● "Home Printing Instruction" as 1 PDF file
● "Printing Tips" as 1 PDF file
● ONLY the texts in blue box are editable / changeable. Graphics change or move are not available.
● Provide a trim mark for best of cutting quality
● All finished PDF files are LOCKED with password to protected design elements. Printing with Acrobat Reader DC is permit
● All fonts from our design are embedded within our templates and cannot be extracted
● No font downloads and installation require
---------- I N S T R U C T I O N ----------
● Submit your order and download your file(s) to computer/laptop (Not working on Mobile/Tablet )
● Open the downloaded file(s) inside Adobe Acrobat Reader DC
● Update highlighted text fields follow to our instruction
● Print on a home printer or at a local printing/copy shop that use Acrobat Reader DC
● Cut & Trim along crop marks, ENJOY!!
● If password required, That's mean you open or print with another program, Please switch to use Acrobat Reader DC
---------- P R I N T I N G ----------
● We recommend printing either only by home printer or printing / copy shop with Acrobat Reader DC
● Please DO NOT use the online uploaders tool. They don't work with any editable PDF files. Please take your file on a flash/USB drive (or email it) directly to your local copy shop.
● Files are NOT formatted to print at Photo Lab & Online photo printing
● Simply to print on Letter Size (8.5" x 11") and A4 Size (8.27" x 11.69") with actual scaling 100%
● Colors may vary depending on your computer, your monitor device, printer and ink quality
● We guaranteed all files can print by Acrobat Reader DC
● "Clients Print Release" is available for all order (please ask if require)
---------- A G R E E M E N T ----------
● We are not responsible for mistakes or printing costs incurred. Please proof carefully
● It is the customer's full responsibility to proof for grammar, spelling and wording on your own
● NO password provide in any case. We guarantee our files working perfectly if follow our instruction
---------- R E T U R N & R E F U N D ----------
Due to the digital nature of our products, returns, refunds and cancellation are NOT possible in any case.
Please ask any questions before purchasing.
---------- T E R M S - O F - U S E ----------
● For Only Personal Use. Not to be share, sell, distribute or used commercially without written consent from owner
● No part of any contents may be reproduced or sold in any form
● All sales of digital download products are final
● By purchasing this listing, you are agreeing to our terms and conditions
T H A N K ⋆ Y O U
© 2018 InLove Digital Design