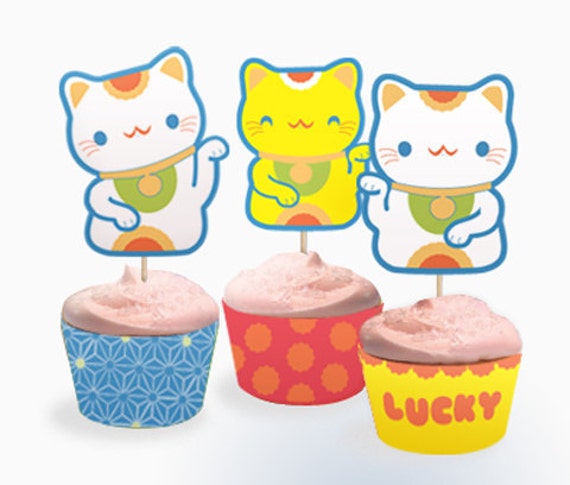 Product Info
Lucky Cat cuteness! Happythought's printable cupcake wrappers and toppers will add extra cuteness to your cupcakes, guarenteed!
Your Lucky Cat cupcake kit includes:
12 cupcake topper designs
12 cupcake wrappers
Full and simple instructions
Suitable for: Everyone!
Great for: parties, birthdays, rainy days.
Top tips for happy pussy cats!
Paper - Use a white card stock or something with a little more weight than standard printing paper. Our top economy tip is to buy a cartridge block pad and trim down the pages to fit your printer. The paper is usually just the right weight (of 120gsm) and has a lovely matt texture. (N.B Please check your printer settings first!)
Printer - we use a Canon ip2702, so no need for anything fancy! Using our old Epson printer we found that the ink could resist a few splashes. However, the Canon ink is not at all water resistant so if your using a similar model don't go throwing your drinks around. On the plus side the Canon inks are a little more vibrant and the print quality is excellent.
Scissors - we recommend scissors for most of our paper crafts, as we find scissors are much easier to handle than a craft knife (at least on curves) and most people have them at hand. If you feel comfortable with a craft knife, go for it!
Scoring folds or creases - You can use the back of a butter knife to score folds before putting together your kit.
Glue - a regular stick glue is fine for most Happythought paper crafts!
Please feel free to contact us below if you have any queries or special requests!
Conditions of use:
This file is for personal use only. Design and concept is copyright Happythought 2013.
Please do not redistribute the file or sell printed materials for profit. Thank you!