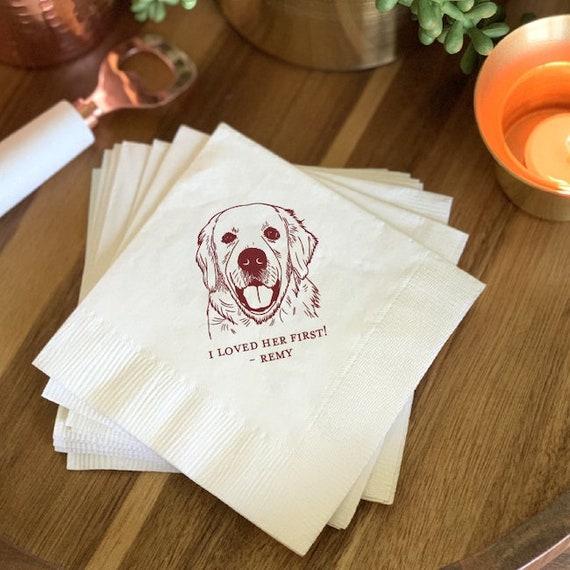 I Loved Her First - Custom Illustrated Dog Wedding Napkins Engagement Party, Custom Bar Napkins, Custom Pet Wedding Napkins, Dog Napkins
By Rubi and Lib Design Studio
Product Info
✨✨Who doesn't love a discount? Join our email list to save on your purchase. Sign up here: https://bit.ly/3bgxWmg ✨✨
Add a fun personalized element to your next event. Choose from multiple napkin colors and foil imprint colors to make these napkins truly unique. These are professional printed in real foil (both shiny and matte options are available.) Scroll through the listing photos to see all the napkin and foil colors that are available.
ARTWORK OPTIONS
1) Select a standard breed illustration from the standard breed chart - select up to three dogs per order
2) Have us create custom artwork from your photograph. Additional charges do apply - see pricing in the second drop down menu.
3) Use a high resolution vector based art file you already have. If created by an independent artist, we will also need a print release. These files can be emailed to [email protected] Please reference your number in the subject line.
SIZE
- Cocktail Napkins are approx. 4.75" x 4.75" and 5" x 5" (sizes vary by color)
READY TO ORDER?
Once the item is added to your cart, please leave the following in the NOTES TO SELLER section:
- Napkin Color
- Ink Color
- Customization Information
- Event Date
- Any other information we need to know
PLEASE NOTE
Please have your pet posed in the direction you would like them illustrated. If you decide on a different pose or direction, it will require a new art fee be paid. The art process would start again as well. We do allow up to 2 artwork revisions for changes not requiring a full redraw.
PROOFS
All proofs are sent within 72 business hours.
This fee is not refundable unless we have not started your artwork yet. Once our designers start the artwork process, the artwork fee becomes nonrefundable.
Your order is held until we hear back from you with approval that all spelling and punctuation is correct. Please note that are orders are immediately placed into production once we receive your approval, and changes cannot be made. A delay in approving your proof WILL delay the production time stated below.
PRODUCTION TIME
Please review our FAQ section for the most up to date production timeframes. Please note production does not begin under your proof has been approved. https://www.etsy.com/shop/rubiandlib#more-section
Shipping takes up to 5 days in US. For shipping to Alaska, Hawaii or Puerto Rico, you'll also need to purchase this listing for the additional shipping cost. https://www.etsy.com/listing/553485608
We use UPS and FedEx for delivery and therefore are unable to ship to PO Boxes.
Questions, please contact us!
EXTRA THINGS TO KNOW
These napkins are a soft 3ply.
Included is one color (although up to 2 colors can be used for an additional fee).
Recyclable
Made & Printed in the USA
Minimum Order - 25 Napkins
COLOR INFORMATION
Keep in mind colors may vary slightly from your proof to your delivered product due to browser and monitor settings.
When you place your order, please be sure to place all of the personalization information in the NOTES TO SELLER section at checkout. This includes, color, text, font, date needed by, and any other important details we need to know. Please note we are unable to match conversations to orders, and therefore it is very important to put all of in the notes section.
If this is a time sensitive order you must put the date needed by and please be advised there may be an additional rush order fee needed, and upgraded shipping cost to ensure your order is delivered in the time frame needed.
By purchasing this listing, you accept Rubi and Lib Design Studio's policies. All designs are copyrighted and the sole property of Rubi and Lib Design Studio (Pink Poppy Party Shoppe, LLC). Pink Poppy Party Shoppe, LLC©
Standard Dog Breeds Available (See Chart)
1. Akita
2. Alaskan Malamute
3. American Bulldog
4. American Foxhound
5. Aussie
6. Aussie Doodle
7. Basenji
8. Beagle
9. Beauceron
10. Belgian Malinois
11. Bull Mastiff
12. Bulldog
13. Bernese
14. Bichon
15. Bloodhound
16. Border Collie
17. Boston Terrier
18. Boston Terrier
19. Boxer
20. Boxer
21. Boxer Pup
22. Brittany Spaniel
23. Bulldog Terrier
24. Cane Corso
25. Catahoula Leopard
26. Cavalier King Charles Spaniel
27. Cavapoo
28. Chesapeake Bay Retriever
29. Chihuahua
30. Chiweenie
31. Chow Chow
32. Cocker Spaniel
33. Cockapoo
34. Coonhound
35. Corgi
36. Dachshund
37. Dalmatian
38. Doberman
39. Doodle
40. Dutch Shepherd
41. English Bulldog
42. Fox Terrier
43. French Bulldog
44. German Pointer
45. German Shepherd
46. German Shepherd
47. Golden Retriever
48. Great Dane
49. Great Dane
50. Great Pyrenees
51. Heeler
52. Hungarian Vizsla
53. Husky
54. Irish Setter
55. Italian Greyhound
56. Jack Russel
57. Labrador
58. Labrador Pup
59. Lhasa Apso
60. Long Haired Dachshund
61. Maltese
62. Maltipoo
63. Mastiff
64. Min Pin
65. Mini Foxie
66. Newfoundland
67. Norwegian Elkhound
68. Old English Sheep Dog
69. Papillon
70. Pitbull
71. Pitsky
72. Pointer
73. Pomeranian
74. Pomsky
75. Poodle
76. Pug
77. Puggle
78. Rat Terrier
79. Rhodesian Ridgeback
80. Rottweiler
81. Schipperke
82. Schnauzer
83. Scottish Terrier
84. Shar Pei
85. Sheepadoodle
86. Sheltie
87. Shepsky
88. Shiba Inu
89. Shih Tzu
90. Shorkie
91. Springer Spaniel
92. St Bernard
93. Staffordshire Bull Terrier
94. Toller
95. Weimaraner
96. Welsh Corgi
97. Westie
98. Whippet
99. Wire Haired Dachshund
100. Yorkshire Terrier