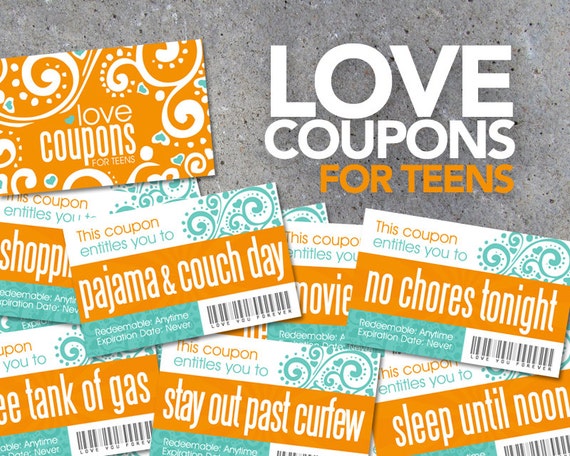 Love Coupons FOR TEENS – Printable Instant Download – Printable coupons for teens & tweens – Teenager Reward Coupons – Stocking Stuffers
By Studio 120 Underground
Product Info
Looking for a creative way to reward your teenagers for good behavior? These coupons will do the trick! Award your teen or tween a coupon if they keep their room clean without reminders, as a reward for a week of chores well done (with no complaining) or simply when you catch your teen doing something nice for someone else! These also make great stocking stuffers or last minute birthday gifts! The coupons are sized to fit inside a standard Altoids Tin so you can stack 'em in and wrap with a ribbon for a cute gift that keeps giving throughout the year! Includes a cover image and the sentiments below:
No chores tonight
Shopping w/ Mom
Ice cream w/ Dad
Pick tonight's meal
Stay out past curfew
Pajama & couch day
Dessert for breakfast
Your favorite dessert
Movie night out
Movie night in
One clean room
Free junk food
A free tank of gas
Sleep until noon
Choose your favorites and create an instant gift any teen would love OR simply award one at a time for good behavior. And don't forget! There's no need for a special occasion! Just slip one to your teen every so often just to let them know they are loved. I've also included a set of blank coupons so you can write in your own rewards!
Be sure to also check out the rest of the LOVE COUPON series:
Love Coupons For Kids
https://www.etsy.com/listing/180540672
Love Coupons For Her
https://www.etsy.com/listing/179192328
Love Coupons For Him
https://www.etsy.com/listing/177429558
You will receive three 8.5" x 11" .PDF files instantly upon purchase that can be printed on quality cardstock or photo paper. You will also receive three 8.5" x 11" .PNG files that can be used in photo editing software for digital scrapbooking. All sheets feature eight coupons approximately 2.5" x 3.5" each.
This listing is for a digital file. No physical item will be shipped. You will receive your .PDF and .PNG downloads instantly via Etsy. JPG format is available upon request! Due to the nature of instant downloadable products, refunds will not be given after purchase. For personal use only. Feel free to use as part of a gift but you may not share, sell, or distribute the digital file under any circumstances.
Copyright © 2014 Studio 120 Underground. All rights reserved.
SKU: 334IDCOU