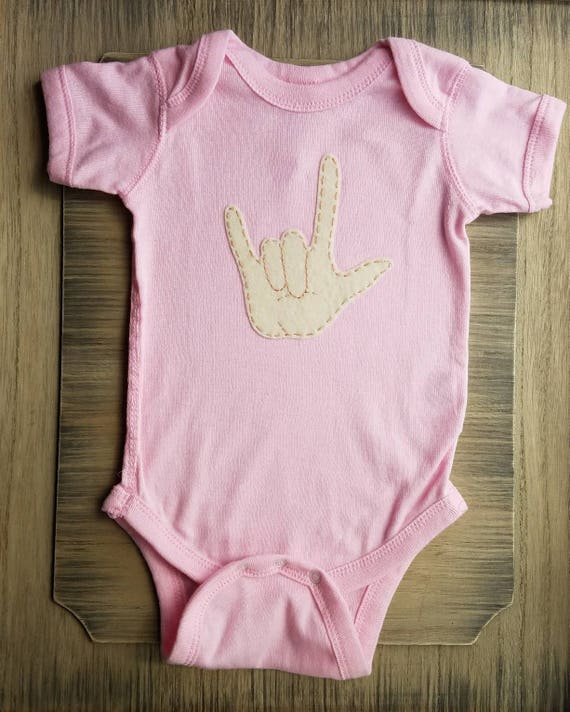 I love you baby, ILY baby one piece, ASL newborn one piece, Hearing Impaired family
By Ellie Shea
Product Info
I love You, ASL baby one piece. Hearing impaired baby gift. This hand sign is "I love You" in American Sign Language. The choice of light, medium or dark skin tone is available. (lighter and medium are featured in photos, dark is available upon request) The appliqué is cut from felt and hand sewn onto a 100% cotton one piece bodysuit, so each order will be slightly unique. An inner liner creates a smooth feeling against the child.
During the check out process please let me know what shade of skin tone you would like me to use (light, medium, dark) samples of your order can be emailed prior to shipment- when requested. This order cannot be completed without confirmation of color tone.
Colored bodysuits (Rabbit Skins Brand) Size Chart is approximate
NB Age 0-3 month, 18-21 inches, 5-9 pounds
6M Age 3-6 month, 22-24 inches, 10-16 pounds
12M Age 6-12 month, 25-28 inches, 17-20 pounds
*********************************************************************
Expedited service is available for 2 day processing at: https://www.etsy.com/listing/120144622/rush-order-add-on-service?
find me on instagram and facebook @elliesheapics
Feel free to message me with any questions you may have so we can build your perfect gift!