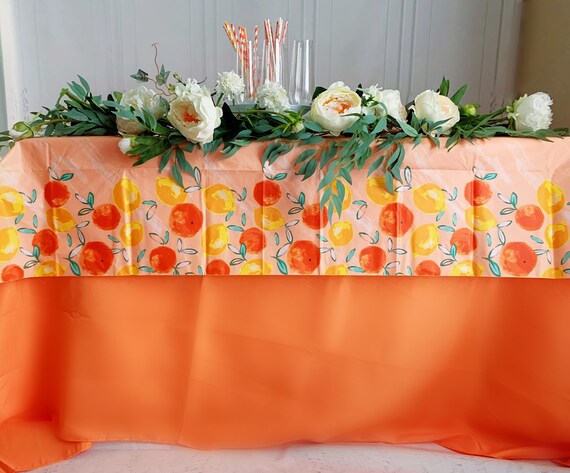 Little Cutie & Main Squeeze Tablecover
By EnFete
Product Info
Adorned with your favourite peelable fruits, let this disposable tablecloth help you set out the most delectable party spread. Lay a feast that's fresh and fruity with this recyclable tablecloth. Add a zing of citrus color to your kitchen table, trestle table, park bench, or even use it to protect your blankets during a picnic. Mix and match with other "Citrus Fruit" designs to really hone that juicy party look.
Product size: 6 foot x 4 foot (The fruit part of the tablecloth is the product in this listing. We sell the floor-length orange polyester tablecloths separately!)
Why we love this 'Citrus Fruit Paper Table Cover':
Squeeze the most out of this versatile disposable table cover by using it for any number of occasions from birthdays to summer fiestas to lazy weekend lunches. Place our small and tall candle holders on to create a tablescape of dreams. It could even be used as a wrap for presents. Rest assured that once all its uses are worn out it's fully recyclable.
How to dispose of this 'Citrus Fruit Paper Table Cover':
All the products in this eco-friendly 'Citrus Fruit' range have been designed to be plastic-free and recyclable. Help us keep the planet lemony fresh and make sure to put this paper tablecloth in your home recycling bin once you've stretched out all its uses.
Product: Widely Recycled
Packaging: Widely Recycled
Check out the rest of the shop for TONS of matching items and including table runners, cake and cupcake toppers, paper goods and banners! Complete your party with EnFete!
Subscribe for updates, party tips, and free printables at: