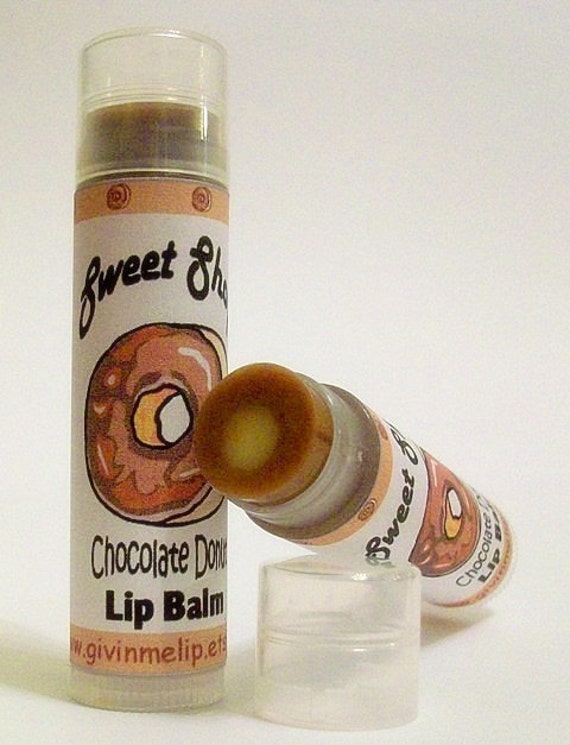 Product Info
Bet you've never seen a lip balm like this!
* We have developed a new twist on the same old boring lip balm nation! A layer of two flavors that when smoothed over your lips combine to give you a stimulating experience!
A treat for your lips and your eyes!
¨¨¨¨°º©©º°¨¨¨¨¨¨°º©©º°¨¨¨¨¨¨°º©©º°¨¨¨¨¨°º©©º°¨¨¨¨¨¨¨°º©©º°¨¨¨¨¨°º©©º°¨¨¨¨
Ƹ̵̡Ӝ̵̨̄Ʒ Flavor: "CHOCOLATE DONUT"
A yummy chocolate donut flavor in the outer ring and a rich creamy vanilla flavor in the center.
¨¨¨¨°º©©º°¨¨¨¨¨¨°º©©º°¨¨¨¨¨¨°º©©º°¨¨¨¨¨°º©©º°¨¨¨¨¨¨¨°º©©º°¨¨¨¨¨°º©©º°¨¨¨¨
"Givin' Me Lip"™ by Howard's Home ™ Lip Balms are all Natural and Vegan Friendly.
"Givin' Me Lip"™ by Howard's Home ™ Lip Balms are made to order to ensure their freshness.
Our own hand blended ingredients give you a smooth, creamy, non waxy, non greasy flavor full lip balm with just a touch of sweetness.
* This lip balm has a slight color tint naturally occurring from the essential oils and flavor oils. The color will not show on your lips.
*****Our lip balms DO NOT CONTAIN MICA!!!
Mica is made from pulverized (crushed) rock which tends to have sharp microscopic edges causing micro-tears when buffed onto the skin. Therefore making your lips even more chapped and damaged!
You will get one lip balm with this purchase. Your lip balm comes in a .15 oz. tube with perforated shrink seal for your protection.
*Labels are not water proof. To protect the label, please only remove the shrink seal from the top of the cap by running your fingernail around the perforation.
♥ See all of our "Givin' Me Lip"™ Lip Balms
Please note that sometimes our lip balms can melt during the shipping process. If you live in a high heat area, it is suggested that you order our lip balms only in winter months. Thank you.
*PLEASE READ OUR SHOP POLICIES FOR COMPLETE DETAILS ON SHIPPING AND PURCHASING. Please observe that non-compliance of shop policies will result in appropriate feedback according to each individual circumstance.
Shipping to the USA only!
No returns, replacements, or refunds.
NO WHOLESALE!!!
*Please be sure to read our shop policies and disclaimer for information on our products before ordering: