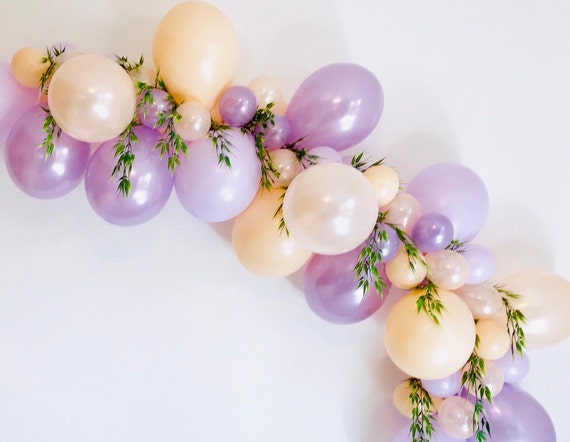 Lavender Balloon Garlands, Pastel Lilac Balloons, Blush Neutral Lavender Shower, Lavender Bridal Shower, Lavender Shower, Peach and Lavender
By GirlyGifts07
Product Info
Our Newest Script!!! Perfect for the Beautiful Bride to be!
You can make your own Gorgeous Backdrop! With our Complete Kit, you can put together this Super Cute Balloon Garland that makes a wonderful statement piece!
Everything is included to make the Balloon Garland, it may look intimidating, but it really is simple to put together. You can hang in a straight line on a wall or curve it to make more of an arch!
Included in each kit:
* An Assortment of 11 Inch Pearl Lavender, Matte Lilac, Pearl Peach, and Blush Nude
* An Assortment of Mini 5 Inch in a mixture of Pearl Lavender, Pearl Peach, Matte Lilac and Blush Nude
* Balloon decorating strip
* (1) Dual action hand pump (1 PUMP PER ORDER)
* Easy to follow step by step instructions.
******* ADD ON OPTION OF AIR FILL BRIDE script that can be taped to balloons or taped to a wall underneath!
* Assembly takes approximately 1 Hour and can be made up to 2 days before your event!
* All balloons ship flat and deflated.
PLEASE NOTE:
1. The Bride Balloon is 33 inches
2. The Balloon is AIR FILL ONLY
3. The Balloon will NOT FLOAT, even if you try to add Helium.