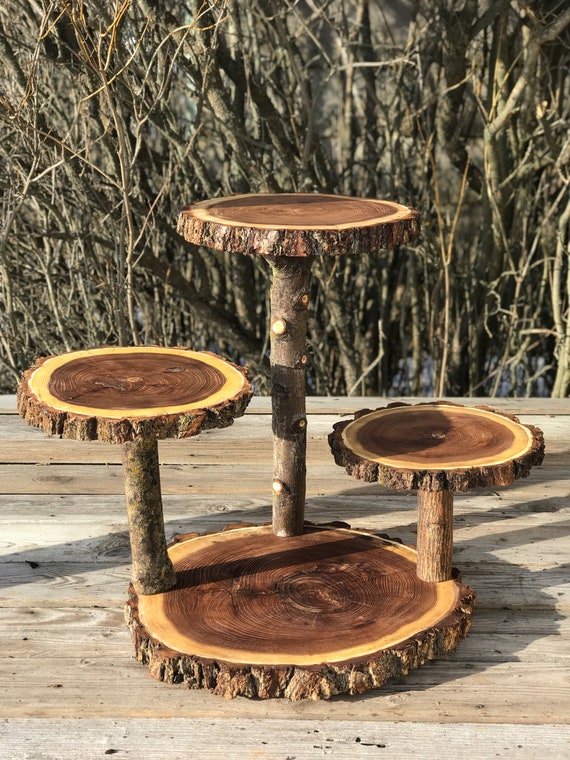 Large Log Elm Wood Rustic Cake 65 Cupcake Collapsible Stand Wedding party shower wooden, donut, lumberjack party, boho, wild things are
By The Shindiggity Shoppe
Product Info
This cupcake/cake stand is just perfect for any occasion! Use it for a wedding, bridal or baby shower, birthday party or any shindig! It can be dressed up for a rustic glam look, or down for a country event!
It is 18 inches tall and can hold 65 average cupcakes.
From top to bottom, the tiers are 9-10 inches, 10-11 inches, 11-12 inches, and 15-16 inches wide.
All the tiers are 1-2 inches thick. The spacers are 6, 10 1/2, and 17 inches tall.
The three tiers can be moved to any of the 3 positions on the bottom tier. This allows you adjust the tiers as you wish based on your events.
This stand is NOT assembled for shipping. It comes with a simple instruction and no tool is required. Just hand screw the spacers to the tiers.
This gives you the flexibility to store assembled or disassembled, and allows for safe shipping.
Food Safety:
Our cake stands are sealed and protected with food safe mineral oil ONLY. But If you don't want any oil on your items or if you want them coated with polyurethane for more protection, just convo. us. A fee will be charged for Polyurethane coating based on the number of coats, the quantity, and size of the items. We generally recommend at least three coats of polyurethane and each coat requires 24 hours to dry.
Please note, wood is a natural product and may crack as it dries. This adds to the rustic look of the stands. If yours cracks in such a way that is unusable within 60 days, we will replace it.
Please allow 3 weeks for this item to ship.
Check out my shop for all kinds of party throwing goods! Need something custom made? Feel free to convo me and I'll do my best to make it happen! Thank