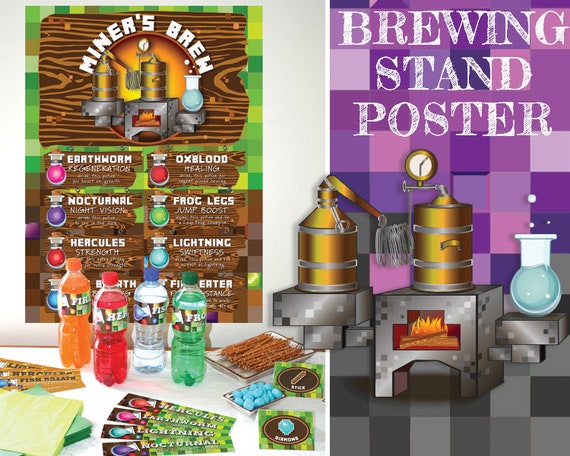 Large Brewing Stand Poster - Pixel Mining Theme - Instant Download Party Printables - Green & Brown Pixel Background with Colorful Potions
By HelloDerpy
Product Info
BREWING STAND POSTER Instant Digital Download for your Mining Party
Dress up your party's Brewing Stand with HelloDerpy's LARGE printable Miner's Brew poster. The green and brown pixel background, studded with shiny gems, lends itself well to a playful mining theme. The brightly colored vials on each hanging wooden ingredient sign are perfect for adding a whimsical twist, each with a unique and humorous potion name.
DIY!!! Please note that no physical products will be sent to you. This poster is available for digital download in high resolution 300dpi format in 2 large sizes: 11x14 inches or 18x24 inches (zipped file for more compact download size).
• • • DIGITAL SHIPPING • • •
Once payment has been completed, you will receive a link via email to download your order. Please note that no physical product will be shipped to you, this listing is for a digital high resolution (.jpg) file which you print, preferably on high quality coated paper.
The download link will automatically be sent to the email address registered to your Etsy account. Please double check that your Etsy email address is up to date. Emails are generally received within minutes of the order being placed.
Your downloads may also be accessed at any time by viewing your Etsy purchases page.
You may print however many copies you want. Feel free to take it to your favorite printer (Walmart, Kinkos, Costco, etc...), print the cards at home or send via e-mail.
I'm here to help with anything you need along the way. Kindly note this is an original HelloDerpy pixel art design and is for personal one-time use only. This graphic is not authorized for resale or redistribution in any digital or printed formats.
♥ Get to know HelloDerpy & HeyDerp! We are two homeschooled children exploring the world of computer-assisted graphic design, java coding, technology and computer science. Our designs have been created with the help of our mentor & mum. Your kids can watch HelloDerpy and HeyDerp play Minecraft® on our YouTube channels at:
HelloDerpy: https://www.youtube.com/channel/UCnwzSlK5wlvcjfQfm6mi6PA
HeyDerp: https://www.youtube.com/channel/UC7dJs6nMCgY1LaKKu6PFutQ
Get in the game with HelloDerpy & HeyDerp on our Minecraft server MINERSRUN (minersrun.mc.gg | Server IP: 198.24.171.90:41954). Visit HelloDerpy.com for designer Minecraft skins, texture packs and mod reviews. Explore the world of modern technology at HeyDerp.com, where the latest in gaming hardware is analysed, product tested and reviewed.
Thanks for shopping with us, we hope your party is a BLAST!!!