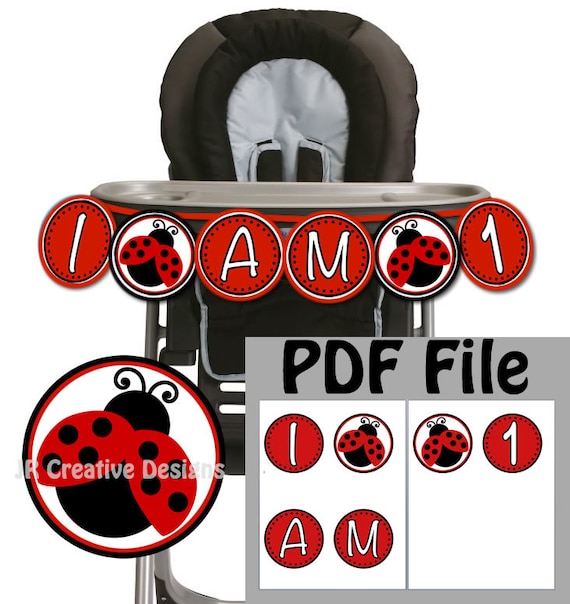 Ladybug Highchair Banner ladybug high chair banner I am 1 1st birthday Banner ladybug party ladybug banner 1st birthday party decorations
By Baby Dayz
Product Info
Add this unique Ladybug birthday theme I am Highchair I am 1 Banner birthday decoration for an extra special photo memory . The first year flies by and what better way to capture that 1st birthday smash cake photo than with a Lady bug birthday themed I am 1 high chair banner. Everyone will be singing Happy Birthday and looking at your child in their high chair ready to eat that cake, this banner will add a long lasting memory to that smash cake photo.
Either make it yourself for that personal homemade DIY touch or contact me to get the item shipped with less to stress about for the party.
For the already made and shipped banner visit:
https://www.etsy.com/listing/272821026/high-chair-banner-highchair-banner-i-am
Ladybug Highchair Banner lady bug high chair banner birthday Banner 1 year Girl 1st birthday party decorations Red ladybug DIY Printable PDF
---------------------------------------------
For other Matching Items in this theme:
https://www.etsy.com/shop/JRCreativeDesigns/items?search_query=ladybug
---------------------------------------------
Product Sizing Information:
Prints on 8.5" x 11" Paper (Some options to print on Regular Paper, Cardstock or Full Sheet label Paper/Sticker Paper)
Circle Sizes:
3.5" Printed Circles
4.25" Card stock backing
---------------------------------------------
Where to Print:
You can print the file at home, or at your local print shop (Kinkos, Staples, Office Max, Office Depot)
---------------------------------------------
What Will You Need to Make this:
Printer (Home or elsewhere)
8.5"x11" Paper, White Cardstock or Full Sheet Label / Sticker Paper
Matching Colored Cardstock - either 8.5"x11" or 12 x 12 works (optional if you print on white cardstock and don't want the backing)
Glue Stick - (optional if you are printing on Full Sheet Label / Sticker Paper or making without the colored cardstock) *This is used to glue the paper to the cardstock
Matching Ribbon - (optional if you just want to tape circles to high chair that works too)
Hot glue - (optional only need if you want to hot glue circles onto ribbon)
Single Paper Punch - (optional only need if you want the circles connected to the ribbon but you don't have hot glue) *You can string the ribbon through the holes
Clear Packing Tape - (optional) *I like to use this to keep the banner in place on the sides and I might put a small piece to help hold it up on the front of the highchair. You can also use this just to tape the circles on to the highchair without any ribbon.
---------------------------------------------
Directions on how to assemble:
There are 2 printout stencils on the pdf that you can use as a guide for the cardstock circle size. You don't have to use the one for the printed circles just an option if you like white space around the circles. Note there isn't a big enough circle punch for these. But if you do have a cutting machine you cut set your cardstock circles to 4.25" diameter.
You can print on regular paper, cardstock or use full sheet label paper (basically they are a giant sticker that is on a 8.5" x 11" paper), you can find that at your local office supplies store or craft stores and maybe even at Wal-Mart. You can also just use regular glue to glue the paper to the cardstock.
How I make the banner is to hot glue the cardstock circles onto the ribbon, or a different strong glue, you can also paper punch 2 small holes at the top and string it through with the ribbon. If you just print the basic circles on cardstock and don't use a ribbon you can also just tape it to the highchair (I like clear packing tape). I also like the clear packing tape to keep it attached better to the high chair on the sides and a little bit in front.
To see a photo of what a Highchair banner looks like already made (note this is not the actual banner but a similar one):
https://img1.etsystatic.com/000/0/6415275/il_570xN.322016503.jpg
---------------------------------------------
Follow My Pinterest Board for more Ladybug Birthday Ideas:
https://www.pinterest.com/jcreativedesign/ladybug-birthday/
---------------------------------------------
*Party Supplies Not Included
Matching Ladybug Party Supplies available at (copy and paste links below)
http://www.partycity.com/search.do?query=FANCY+LADYBUG or:
http://www.birthdayexpress.com/LadyBug-Fancy-1st-Birthday-Party-Packs/81889/PartyPack.aspx or:
http://www.orientaltrading.com/web/search/searchMain?keyword=ladybug+party
---------------------------------------------
Ladybug Birthday Party
Ladybug Party
Lady Bug Birthday Party
Lady Bug Party
Ladybug Party Supplies
Ladybug Party decorations
Ladybug Birthday decorations
Ladybug Birthday Banner
Ladybug Photo Banner
Ladybug Picture Banner
Ladybug 1 year banner
Ladybug 1st birthday party
girl 1st birthday party
1st birthday invitation
1st birthday invite
ladybug 12 month banner
12 month photo banner
printable birthday banner
ladybug girl birthday
Ladybug invitation
Ladybug invite
Ladybug thank you card
Ladybug photo card
Ladybug picture card
Ladybug 12 month invitation
Ladybug party decor
Ladybug printable decorations
Ladybug pdf file
Ladybug girl party
first birthday party
ladybug first birthday
first birthday invitation
first birthday invite
red ladybug
fancy ladybug birthday