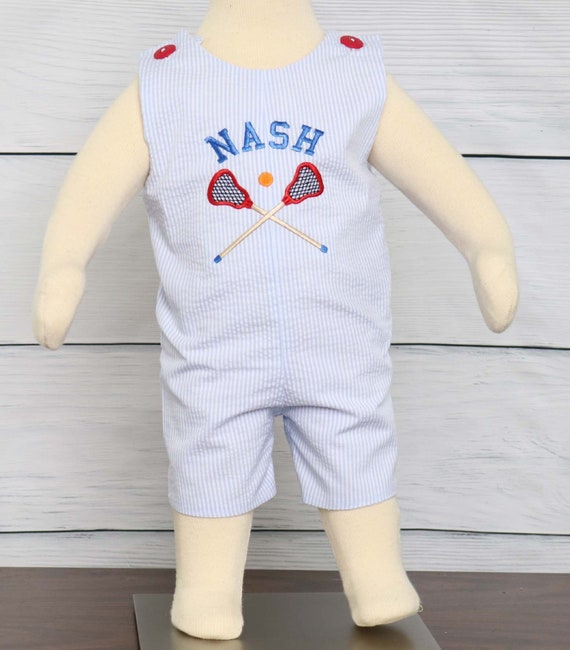 US Lacrosse Baby Clothes | Lacrosse Themed Baby Clothes | Baby Boy Clothes | Lacrosse Outfits | Lacrosse clothing | Lacrosse Kids 293149
By Zuli Kids
Product Info
They're only little once, hold onto them as long as you can! He will be the center of attention at the big event with his Lacrosse baby clothes. Lacrossed themed bab clothes are baby blue seersucker and have red lacrosse trimmed in black. Zuli Kids Clothing offers a unique collection of classic shortalls, combining vintage styles with the timeless heirloom quality you've come to love. From formal to casual, seasonal to everyday, we have something to suit every taste and special occasion. Childhood keepsakes to treasure forever, from our family to yours.
Lacrosse kids clothing can come plain, with lacrosse applique or with applique and name. Our childrens shop offers toddler boys Jon Jon in many styles.
Zuli Kids High Quality
65% 35% Poly Cotton Seersucker, Machine Washable
Shoulder Button Closures
24 Mo and smaller has button closrues in the crotch for easy diaper changes
Please wash by itself the first time on a small load with a cup of vinegar to set the colors and keep the dark colors from fading on the whites. We are not responsible for garments not washed according to instructions
For sizing, we do not go by weight or age or other company's sizing.
We stock no items. All items are custom made after the order is placed and we, therefore, also have a no-exchange, no-return and no-refund policy.
For our Jon Jon, we use 3 measurements so you can check to see what size you need. I suggest that you measure a garment that fits him or will fit him loosely when you need him to wear it. Do not measure the baby and do not measure a knit garment. Our garments are not knit and have no-stretch
Lay a garment flat and measure from on front only. See drawing in picture section if you are unsure where to measure.
We use chest.............measured from armpit to armpit
We use crotch..........measure from center of shoulder to crotch
Length.............measured from the shoulder to the bottom of the pant hem. (Ankle on long pants and hem of short leg for short pants)
See photo section for measurement chart. These are approximate measurements and are in inches.
Boys Beach Outfit - Baby Boy Clothes - Beach Clothing - Boy Jon Jon - John John Outfit - Sibling Set - Matching Sibling