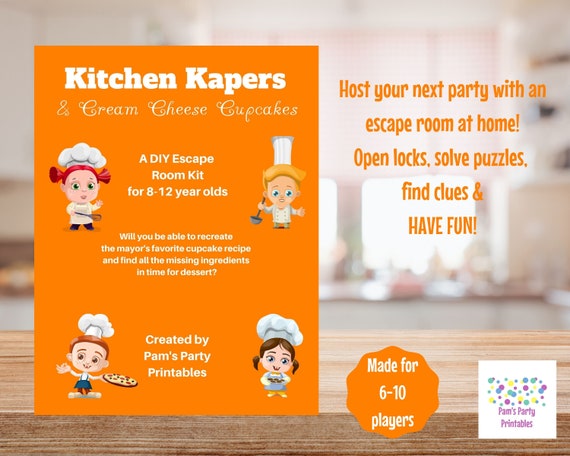 Kitchen Kapers & Cream Cheese Cupcakes - A DIY Escape Room Kit for 8-12 year olds - Family Friendly - Group Game - Party Game
By Pam's Party Printables
Product Info
Kitchen Kapers and Cream Cheese Cupcakes
A Do-It-Yourself Escape Room Kit with a baking theme
Made especially for 8-12 year olds
Escape rooms are so much fun but expensive. If your child loves escape rooms, why not set one up at your house for a fraction of the cost?
This game is also fun for scout troops! Works best for a group of 6 -10 kids.
This DIY Escape Room kit offers the real experience of an escape room by challenging players to walk around the room to find clues, gather information and open locked boxes. Players work with simple household items, not just a paper puzzle, while they try to find the missing items before time runs out.
Storyline:
After 25 years baking for Mon Petit Café, Baker Becky quit this morning after receiving a bad review of her famous cream cheese cupcakes. Emotionally crushed by the review, Becky destroyed her recipe and made a mess of the kitchen, moving ingredients and hiding tools.
Unfortunately, the Mayor is coming tonight and expecting Baker Becky's cupcakes for dessert. It is the players job to find the ingredients and piece together the recipe before the Mayor arrives.
The game includes an editable recipe to make alterations for allergies or other changes.
Most items on supply list are found in the average home, borrowed from friends or can be purchased at the Dollar Store. A supply list can be viewed before you buy by clicking through the photos on this post.
Beta testers of the game reported it took them 1 hour to read through everything and AND 2-2 1/2 hours to set up after gathering supplies. Link to file is automatically emailed to you through Etsy. If it doesn't appear, check your spam folder or download it directly from your orders on your Etsy account page.
What's Included:
A zipped file that contains a PDF file and editable Word document. Includes supply list, set up instructions, game play instructions, game printouts and script for host/hostess.
Please note that this is for an INSTANT DOWNLOAD file. No game sheets will be mailed. Instead you will receive a PDF that you can print on your home printer using regular printer paper or cardstock. Print in color or black and white. There is no limit on how many game sheets you can print for your personal use. However, you may not redistribute the file or sell printed items for profit.
NO REFUNDS WILL BE GIVEN FOR DIGITAL DOWNLOADS.
If you love Escape Rooms, please check out my other kits:
Mix up at the Morgue Escape Room
https://tinyurl.com/y4gm4n6e
Santa's List is Missing Escape Room
https://tinyurl.com/y27jaajm
Twinkle Twinkle Little Star Reveal Escape Room
https://tinyurl.com/y3feny4t
Let Me Outta Here! The Snowman is Melting Escape Room
https://tinyurl.com/yymf59fm
We're Late for Thanksgiving Dinner Escape Room
https://tinyurl.com/y4xn8vmy