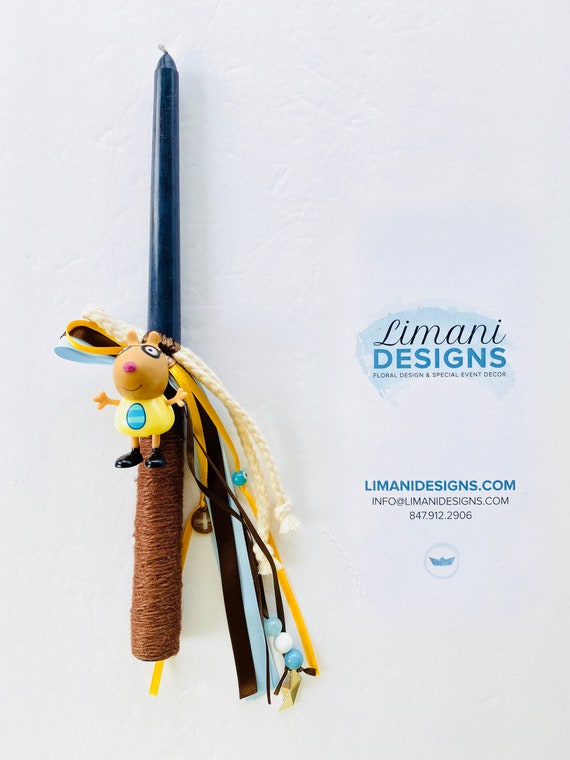 Product Info
The Jr. Collection is made up of our 12" colored candles. These shorter, lighter candles are paired with spring details with coordinating ribbons. This group of friends is all set for Easter, they even come with their own Easter egg!
The 2021 Limani Designs' Easter Candle Collection includes a small Cross on every candle and a small metal paper boat charm, just like our logo. We want to make sure you are purchasing an original and authentic Limani Designs candle, which is always made with love and care with intricate designs and details. Candle comes with a non-flammable wax holder cup.
This is our 10th year selling on Etsy. We have been so fortunate all these years successfully selling our Easter Candles across the US and the world that we are happy to announce a portion of the proceeds from our Easter Candle sales were donated in 2017 and 2018 to UNICEF, United States Fund, Children First. The 2019 donation went to The Ark of the World (Kivotos tou Kosmou).
We are excited to share that the 2021 donation will be going to Reaching for the Stars, Children's Foundation which supports SOS Children's Villages in Greece again this year. The purpose of Reaching for the Stars Children's Foundation is to continue to build strong compassionate children and to develop strong relationships with vetted partners.
If you live in the Chicagoland area, pick up or special delivery options are available. Please email us or send us a quick note! International shipping charges will be calculated separately.
Custom orders will be taken until April 19th. See previous sold items for inspiration.
Thank you for visiting our shop and wishing you a very Happy Easter!
Team Limani