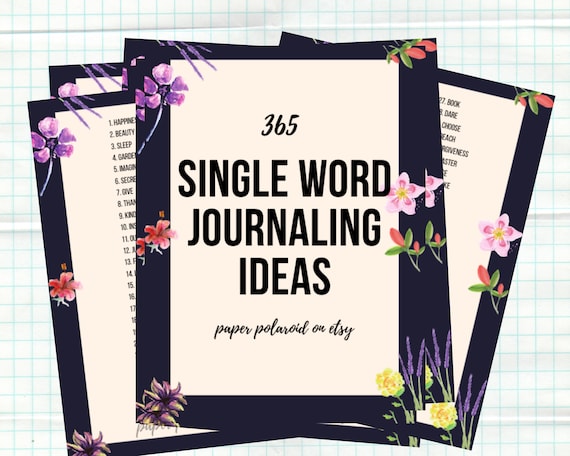 365 Journaling prompts, single word journaling ideas to write about, daily topics. Themes,inspiration, bucket list. Wordfetti, word confetti
By Paper Polaroid
Product Info
Journaling is probably one of the most rewarding experiences that you can have every day.
However, most of those who quit journaling at some point didn't stop because they couldn't see the benefits of journaling.
They just don't know what to write about.
I get it. A blank page can be intimidating.
Sometimes all you need to get going in your art journal is one word to inspire you.
With just one word, there's a lot of freedom to do just about anything – you can interpret that one word any way you'd like!
Words are great inspiration starters.
Some say a picture paints a thousand words, but I say that a word can also paint a thousand pictures.
Anyone taking a word will come up with any number of interpretations of that word.
No two pieces will be the same.
365 WORDS- One for each day if you want.
(This listing includes 2 files with 9 pdf pages total, 365 word prompts for journaling)
I would love to see what you come up with, please feel free to leave a review with pic :)
HAPPY JOURNALING!!!
TERMS OF USE:
*NOT FOR COMMERCIAL USE
*Only For Personal Use
*DO NOT resell or share work
*Unlimited amount of personal copies can be made
©2019 Paper Polaroid. Copyright Paper Polaroid
All designs, images and text are copyrighted and can only be used for personal uses ONLY, and CANNOT be stored,reproduced,or used for commercial reproduction or resale or used.