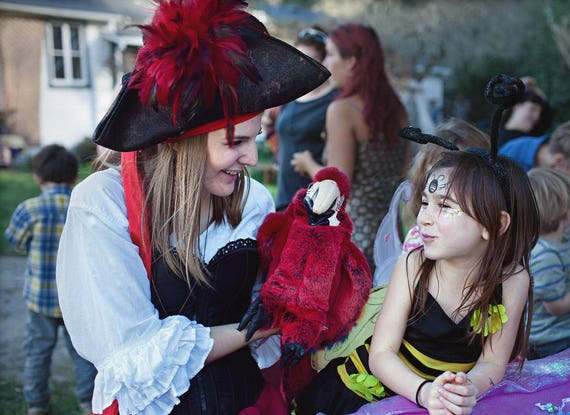 Product Info
This listing is for:
1 hour visit from a real Happily Ever Laughter Pirate to any celebration in our location range (see bottom of listing)
Your Pirate will bring 2 activities that will engage and enchant children during your event – so the grownups can focus on the big day!
Her visit also includes:
~ Zero traveling fees
~ Weekend 24 hour live phone support by our SecreFaeries
~ A 100% arrival guarantee

~ Full liability insurance
--------------------------------------------------------
Choose 2 activities for your Faerie to bring:
Happily Ever Laughter is known for our high energy and engaging activities that bring children together during events. These teacher designed activities entertain children all at the same time so you can sit back and enjoy your celebration:
*Magic Show (we love to involve all the children)
*Obstacle Course (works indoors or outdoors!)
*Puppet Show (with touchable puppets)
*Sing Along (we bring instruments for the children)
*Parachute Games (we'll get them exhausted from jumping!)
*Dance Party (wiggle, wiggle, wiggle!)
*Children's Hawaiian Adventure (great for younger children)
We also offer:
*Face Painting - Our designs are great for both boys and girls, and we can match our designs to your theme! After painting at over 16,000 events, we know how to keep the lines short, and the designs fast.
*Balloon Twisting - Our performers are trained to twist shapes quickly so children spend less time waiting, and more time playing!
*Glitter Tattoos - Sparkling designs that last 3 days, even in the water!
--------------------------------------------------------
I recommend peeking at our webpage so you can see what we do in full color! I think it's much more fun than reading email. *smile*
You can find it at http://www.happilyeverlaughter.com . Ready, set…click on! *giggle*
--------------------------------------------------------
Location Range:
Our Performers can bring our extra sparkle to private homes, parks, offices, restaurants, you name it! We currently travel to the following areas of California without any traveling fees:
San Francisco Bay Area
North Bay*
South Bay
East Bay & Bay Area Peninsula
Santa Cruz County
From Monterey to Boulder Creek
Sacramento Area
From Midtown to El Dorado Hills, we travel to several areas in Sacramento.*
Los Angeles Area
From east to west and north to south, we love flying around LA and it's surrounding cities.*
*Some restrictions apply. Ask your booking SecreFaerie if we travel to your city!
--------------------------------------------------------
IMPORTANT NOTE! ~ We feel like the luckiest performers in the land because we often book up *very quickly*, so if you do decide to reserve a spot with us, PLEASE CONTACT US *before* you pay for this listing to double check that we still have a spot for you! Thank you for understanding!
Contact the SecreFaeries:
831 346 1196
happilyeverlaughter@gmail.com
We are in the Faerie Office Headquarters every day from 8am-7pm, and on the weekends from 9am-5pm. Give us a call!
Video: Watch us in action at a real celebration! : www.youtube.com/watch?v=VH7Rt1FKqmQ
Social Media: The Faeries on Facebook : www.facebook.com/pages/Happily-Ever-Laughter-Parties/80318242206
Yelp Reviews: Northern California : www.yelp.com/biz/happily-ever-laughter-parties-fremont
Yelp Reviews: Southern California : www.yelp.com/biz/happily-ever-laughter-parties-los-angeles-2