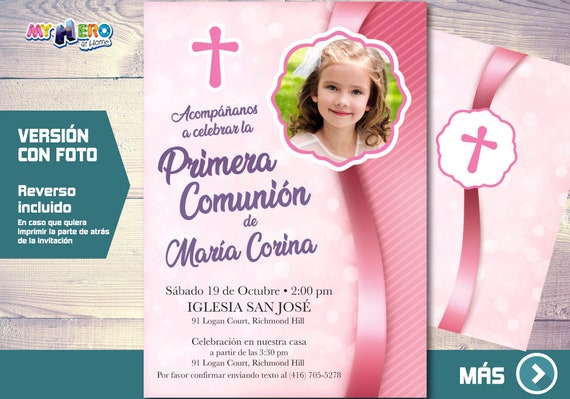 Invitacion para Primera Comunion para Ninas. 1era Comunion Invitacion. Invitacion 1era comunion. Invitacion Digital 1era Comunion. 384SP
By My Hero at Home
Product Info
Invitación para Primera Comunión para Niñas con la foto de su niña o con personaje - puede seleccionar entre 5 modelos- . Invitación 1era comunión.
Archivos Digitales para que Ud imprima o envie electronicamente. No se imprime ni se envia nada físico.
Este listing es por la creación y envio a través de correo electrónico de:
- INVITACION 5x7 pulgadas = 12,5 x 17,75 cms
(o 6x4" / 15,25 x 10 cms)
(En archivo JPG para imprimir en Servicios Online y un archivo PDF en tamaño carta con el mismo diseño - dos veces – para imprimir en casa o en impresora personal.)
HAY DOS OPCIONES : con foto y sin foto.
► Cómo funciona:
Agregue esta invitación a su carrito de compras "add to cart" y coloque TODA la información que requiera en la invitación en "Notes to Seller":
Nombre:
Fecha del evento:
Hora
Local / Dirección:
Datos para reservar RSVP:
Tamaño : 5x7 o 4x6 pulgadas
Sí no va a enviar foto, seleccione cartoon (slide 5)
Sí va con foto, enviela a [email protected]
Y cualquier otra información que desee colocar
(considerando los espacios de la tarjeta):
Sí usted desea puede incluso cambiar las frases en la invitación.
CADA PAÍS TIENE SUS MANERAS DE DECIR ALGO Y SUS ACENTOS. Envie el texto tal cual como quiera que aparezca. Por favor revise cualquier error ortográfico o de redacción antes de enviar.
► FOTO (en la medida de lo posible, trate de enviar fotos en alta resolución o buena calidad) y enviale a myheroathome[@] gmail.com o usando el sistema de conversaciones "convo" que ofrece Etsy. Sólo una foto por niño.
►LOS TAMAÑOS LOS PUEDO ADAPTAR A LOS ESTANDARES DE CADA PAIS. Sólo haga las indicaciones respectivas al momento de hacer la compra. Cambiar los tamaños después de terminada la invitación tiene un cargo extra de US$ 5.
►UNA REVISION esta incluida con su orden.
(Revisiones no incluyen cambiar por nuevas fotos).
Sí hay algún error cometido por mi, los cambios no tendrían cargo extra.
► Los Archivos serán enviados desde "[email protected]" al correo electrónico asociado a su cuenta Etsy o al email que Ud indique. Por favor, revise su email en las próximas 24 hrs (incluso sus folders de Spam o Junk)
NOTAS IMPORTANTES
► Debido a las diferentes impresoras y calibraciones del monitor los colores pueden variar.
► No hay reembolsos después de entregar archivos digtiales debido a la naturaleza del producto.
COPYRIGHT NOTICE
Estas invitaciones personalizadas son sólo para USO PERSONAL. No deben ser revendidos, copiados o divulgados por ningún motivo.
Tenga en cuenta que al hacer el pedido, usted certifica que usted es dueño de la foto enviada y usted tiene permiso para utilizarla. My Hero at Home no se hace responsable del mal uso de materiales con derechos de autor presentados por el cliente o cualquier reclamación de infracción de derechos de autor.
POR FAVOR, NO COPIE, REDISTRIBUYA O VENDA MIS DISEÑOS
¡Gracias! - Para estár más informado de nuevos diseños, regalos y/o promociones: http://www.facebook.com/myheroathome