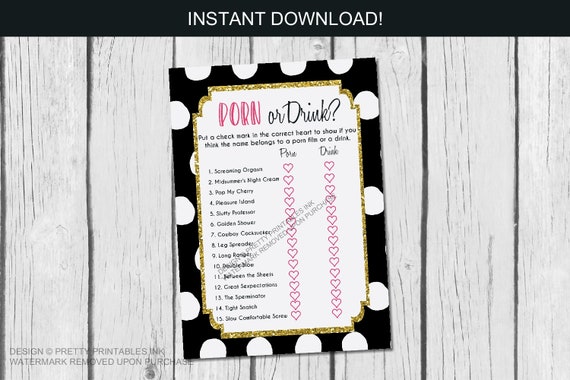 Instant download porn or drink game, drink or porn game, printable bachelorette game, drinking game, hen party game, virtual bach game
By Glass Slipper Designs
Product Info
Porn or drink game - an exclusive bachelorette game we made up ourselves! You won't find this game anywhere else, as this is 100% original and made up by us (and if you do see it somewhere else, it means someone copied us). This printable, instant download bachelorette game is sure to get everyone laughing and celebrating the bride's last wild night!
INSTANT DOWNLOAD - this file is available to download and print as soon as payment clears.
To play, decide whether the title listed in the name of a porn movie or a drink and check off the appropriate heart box. Answer key is included in the download.
The following is included:
♥ Bachelorette porn or drink game (answer key included!)
A full page PDF with two games sized 5 by 7 is provided. You can print on your home computer or take to a copy centre for printing. Please see below for info about printing. The watermark will be removed upon purchase.
The file is an AUTOMATIC DOWNLOAD and will be available to you immediately upon purchase. Colour and text customizations ARE NOT available for this listing. No refunds available as this is an automatic download.
► ► Want this game and others in this same design? Get this game and two other coordinating games (Bachelorette 'Drink If' Game and a finish the bachelorette's sentence game) here:
https://www.etsy.com/ca/listing/624957961/printable-bachelorette-games?utm_medium=SellerListingTools&utm_campaign=Share&utm_source=Raw&share_time=1530572212000&utm_term=so.slt
View all our other matching add-on items we have available here: https://www.etsy.com/shop/prettyprintablesink?section_id=25669831
♥ ♥ ♥ ♥ ♥ ♥ ♥ ♥ ♥ ♥ ♥ ♥ ♥ ♥ ♥ ♥ ♥ ♥ ♥ ♥ ♥ ♥ ♥ ♥ ♥ ♥ ♥ ♥ ♥ ♥ ♥ ♥ ♥ ♥ ♥
POLICIES
No refunds issued on digital items. This file is for PERSONAL use only. It may not be copied, reproduced, resold, redistributed or used commercially in anyway. Please honour this copyright, as this work is 100% my own, original idea and to copy is a violation of copyright.
♥ ♥ ♥ ♥ ♥ ♥ ♥ ♥ ♥ ♥ ♥ ♥ ♥ ♥ ♥ ♥ ♥ ♥ ♥ ♥ ♥ ♥ ♥ ♥ ♥ ♥ ♥ ♥ ♥ ♥ ♥ ♥ ♥ ♥ ♥
PRINTING
For the best results, I suggest taking the files to a copy centre or print centre for printing services. However, you can print your sign at home as well. To print at home, you will need a high-quality colour printer that can handle heavy card stock (I recommend a 80 lb or 100 lb white cardstock for best results). Simply print on 8.5 x 11 inch card stock and trim around the coloured area. "Gold foil" is not physical foil - just clipart meant to look like it.
Colours may vary depending upon your monitor calibration, the type of printer being used and the type of paper you are printing on. I am not responsible for how colours appear once they are printed.