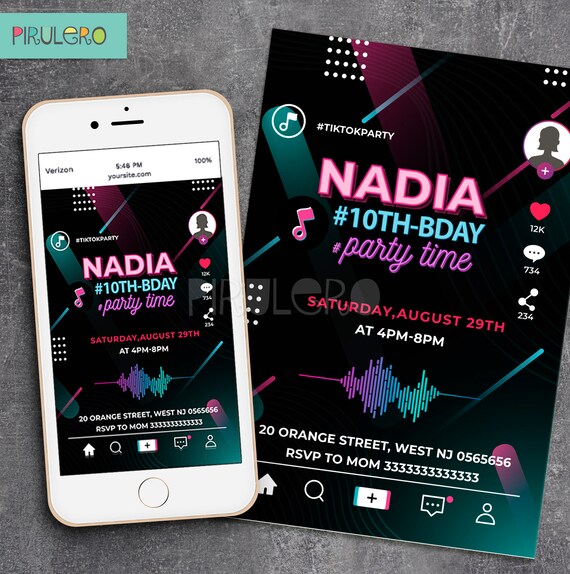 Inspired BY Tik Tok - TikTok Digital Birthday invitation. Tik Tok invites. Tik Tok Birthday. E-invite. Digital invite TikTok
By Pirulero
Product Info
Son dos archivos, uno para imprimir que contiene 4 invitaciones de 9.5 x 14 cm / 3.8 x 5.6 pulgadas y el otro que es para enviar por correo o redes sociales.////
They are two files, one to print that contains 4 invitations of 9.5 x 14 cm / 3.8 x 5.6 inch and the other that is to send by mail or social networks.
Después de comprar la lista, proporcione la siguiente información
*Nombre y edad
* Fecha y hora del evento
* Dirección del evento
* Información de RSVP
* Otra información
La invitación se enviará por e-mail en las 72 horas. Se envia en formato digital, y un archivo A4 digital de alta resolución (JPEG ) para imprimir.
Entran 4 invitaciones un archivo A4
Puede imprimirlo en cualquier imprenta o en casa.
* formato jpg. 300 dpi, ALTA resolución
* archivo digital para imprimir en tu hogar, en gráficas o imprentas
* tamaño de hoja A4 para impresión:
A4 = 210 x 297mm = 8,3 x 11,7pulg / inch.
Agregue el artículo a su carro.
> Incluir todos los datos de su partido en las notas a la sección del vendedor pedido:
-Nombre y edad
-Fecha y hora del evento
-Dirección
-Otra información
> Usted recibirá su archivo JPEG de alta resolución al correo electrónico utilizado para login Etsy (dentro de 3 días hábiles)
> Puede imprimir usted mismo o laboratorio local o en una tienda de impresión. Es muy fácil!
Lo puedo adaptar al evento que se requiera, como ser: cumpleaños, bautismo, baby shower, etc.
-----------------------------------------------------
INFORMACIÓN ADICIONAL
-----------------------------------------------------
▼ Debido a la naturaleza de los archivos digitales, no es reembolsable.
▼ El color de la imagen puede variar ligeramente al imprimirse debido a la calibración del ordenador, la calidad del papel y la configuración de la impresora.
▼NO es un elemento de descarga instantánea.
▼ Esta es una compra digital y ningún producto físico será enviado, NO se incluyen materiales impresos
▼ Comuníquese con nosotros si tiene algún problema.
-----------------------------------------------------
COPYRIGHT
-----------------------------------------------------
▼ Este listado es para nuestro servicio creativo y el tiempo dedicado a diseñar y personalizar su artículo.
▼ Todos los derechos de autor utilizados pertenecen a sus respectivos propietarios y no se venden.
▼ Todos los diseños son creados por Pirulero (aparte de las imágenes de caracteres o marcas comerciales con licencia).
▼ Todos los artículos comprados son solo para uso personal.
▼ Prohibido el uso comercial o la reventa.
(Usted no puede vender, compartir, copiar, re-distribuir o utilizar estos archivos comercialmente)
▼ Nuestros diseños imprimibles están pensados para la impresión en casa. Puede elegir que sus invitaciones se impriman en un laboratorio fotográfico sin problemas
▼ Cuando compre cualquiera de nuestros diseños imprimibles acepta reconocer estos términos y condiciones.
Copyright ©Pirulero