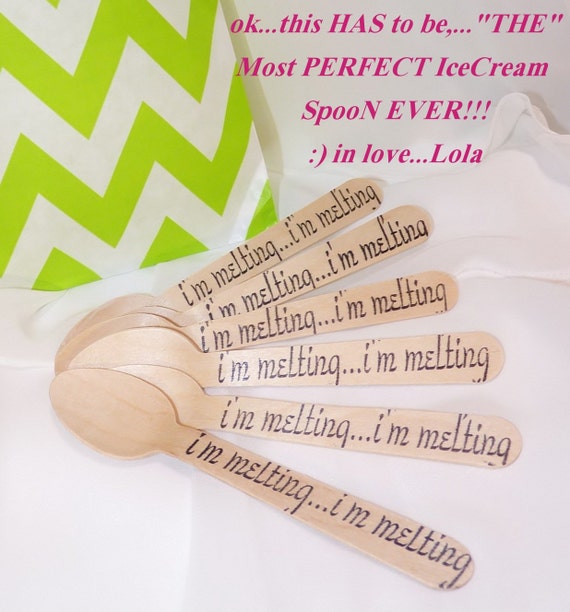 IcE CreaM SpooN PERFECT Wood Spoons 18 HAND STAMPED Words Custom Favors , Ice Cream Spoons, Eco Friendly
By Lola's FaNcY Party Shop
Product Info
~~~~~~~LOLA LOVESSSSSS THIS ONE!!!!!~~~~~~~ :):):)
Oh So FaNcY "SILVERware" yet biodegradable wood so after ONE use just toss away and nothing left to "Polish",... but your Nails!
"I'm Melting...I'm Melting"___ has Ice Cream written ALL Ove r This One! :)
****18 piece total!!!****
These are sure to bring many "Oh My's", Smiles & Giggles and i doubt many will get "left behind".
PERFECT at Brunch, Garden Parties, Picnics, Family Reunions, Birthdays, Baby Showers, Weddings and BackYard BBQ's!!!
EVERY Utinsel is HAND Stamped, Some may be a little "slanted, lighter, darker...etc..." this goes for both the Ink as well as the Wood Grain.
Again these are FUN, FANCY & Uniquely Yours :)
Getting Family & Friends Together is FUN !!! Don't Stress..."You Got This...!"
Enjoy Your Beautiful Celebration with
FaNcY Garnishes for Simply FaBuLoUs Parties :)
Lola Loves A Party