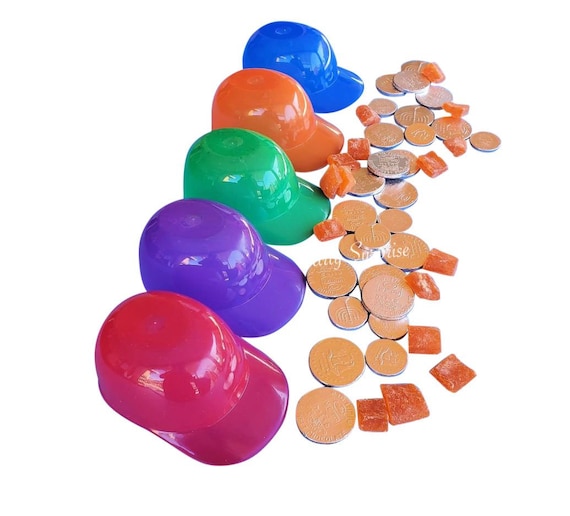 Ice cream Bowls Helmet Ice Cream Cups Red Green Blue Orange Purple Optional Spoons Treat Kids Favor Baseball Helmet Bowls
By Party Surprise, Etsy
Product Info
Colorful baseball helmets will make eating all those yummy treats so much fun!
Holds 8 oz., and can be served with ice cream, candy, ices, peanuts, pretzels, and even dips like salsa!
These cute helmets, made of plastic, are great for cold items, and has a flat bottom to make it easier to stand.
When the bowls are empty, they can be given as party favors. Available in assorted colors of orange, green, pink, blue, and purple. Your guests will have so much fun with these bowls!
*************************************
HOW TO ORDER:
* Go to the order box and click on the drop down.
* Select the number of helmets you would like.
* Add to your cart.
* Repeat to add additional items.
* Color changing SPOONS, shown above photo 3, can be found at this link, or include in your helmet order at a special combo price!
www.etsy.com/listing/960135544/color-changing-spoons-5-colors-change-to?ga_search_query=color%2Bchanging&ref=shop_items_search_1
* Look for spoons, tableware, napkins, other food wrap, and of course, what's a party without balloons!
**************************************
SHIPPING (yes, boring, but necessary):
I highly recommend adding insurance for loss and damage by USPS when checking out, it is only $0.99, if you are shipping by standard (& free) shipping.
Standard shipping usually takes 2-6 business days once shipped, does not include insurance for loss or damage, or guarantee of date of delivery.
Priority shipping usually take 2-4 business days once shipped, includes insurance for loss or damage, does not guarantee date of delivery.
RUSH Priority shipping puts you at the top of the orders list, and ships by Priority mail as described above.
Express Priority shipping usually will take 1-3 days once shipped, includes RUSH which puts your order at the top of the orders list, and also includes insurance and guaranteed date of delivery by USPS.
If order is delayed by USPS, please contact Party Surprise, however the date of delivery is not guaranteed by Party Surprise, only the date of shipping. Returning packages must be discussed first with Party Surprise, package must be UNopened, returned within seven business days. Once package is received by Party Surprise and is found to be in original condition, a refund will be issued less 20% restocking fee and less shipping charge. Custom orders are not returnable; all balloons are not returnable if package has been opened.
Most orders will ship 1-3 business days, please add this on to the shipping days.
***********************************
Don't forget your balloons, balloon arch/garland kits, photo prop sets, fancy straws, tableware sets, mini popcorn boxes, Euro gift bags, gift/favor/treat bags, tissue tassel garlands & balloon tails, custom wedding confetti wands, party tableware, disposable cutlery, cake toppers, and cupcake toppers & wrappers - I have what you want!
Balloon color and size charts here:
www.etsy.com/shop/PartySurprise?ref=hdr_shop_menu&search_query=color+chart
Confetti Balloons & Table Confetti:
www.etsy.com/shop/PartySurprise?ref=shop_sugg§ion_id=25395318
Hot Air Balloons:
www.etsy.com/shop/PartySurprise?ref=shop_sugg&search_query=hot+air+balloon
Balloon arches/garlands:
www.etsy.com/shop/PartySurprise?ref=shop_sugg&search_query=garland
Photo Prop Sets:
www.etsy.com/shop/PartySurprise?ref=shop_sugg§ion_id=22959761
Disposable Cutlery:
www.etsy.com/shop/PartySurprise?ref=shop_sugg&search_query=cutlery
Fancy Straws: www.etsy.com/shop/PartySurprise?ref=hdr_shop_menu§ion_id=14449328
Party Tableware:
www.etsy.com/shop/PartySurprise?ref=shop_sugg§ion_id=15478643
Mini Popcorn Boxes: www.etsy.com/shop/PartySurprise?ref=hdr_shop_menu§ion_id=15478643
Tassel Garlands: www.etsy.com/shop/PartySurprise/items?ref=pagination§ion_id=19770755
Custom Number Cards:
www.etsy.com/shop/PartySurprise/items?ref=pagination§ion_id=19936436
Cupcake Wrappers: www.etsy.com/shop/PartySurprise?ref=hdr_shop_menu&search_query=cupcake+wrappers
Cupcake Toppers: www.etsy.com/shop/PartySurprise?ref=hdr_shop_menu&search_query=cupcake+topper
Cupcake Toppers: www.etsy.com/shop/PartySurprise?ref=hdr_shop_menu&search_query=cupcake+topper
Favor and Treat Bags: www.etsy.com/shop/PartySurprise?ref=hdr_shop_menu§ion_id=14448891