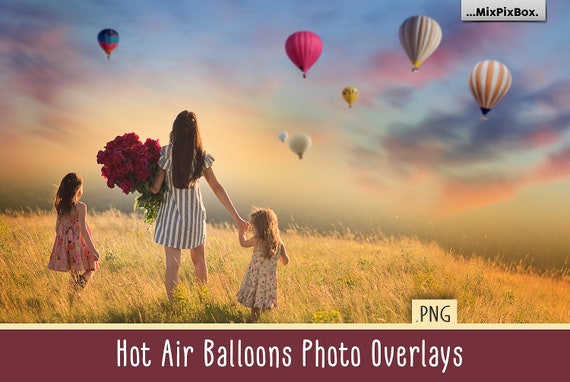 Hot Air Balloon overlays, Balloons, Photoshop overlays, png, digital, aerostat, clipart, clip art, editing
By MixPixBox
Product Info
Daydreamer overlays
What a cascade of colorful hot air balloons lifting up in your photos and designs! In 30 PNG-formatted high-resolution images, airy balloons are already started up against a transparent background. Just add them in your compositions and adjust the size.
The scale of romantics is way over the limit! It goes without saying that it is possible to take a single element, combine several hot-air balloon images together or use the ready-made backdrop with a variety of colors, sizes and patterns of these fantastic montgolfiers. Make sure that some balloons may not be in the focus of the image and should appear blurry, so use the softening filters of your program. In this way, you create a realistic depth effect.
Looking for exquisitely dreamlike floating elements? Create invitations and greeting cards or decorate your logos, for example, on website banners with hot air balloons. In addition, these airy elements are popular motifs for surreal, fantastic or romantic compositions.
DETAILS:
30 Overlays in PNG format with transparent background:
** You will need software that supports the use of JPG files and to open Zip files.
** You will need basic knowledge of Adobe Photoshop and know how to work with the layers.
TERMS OF USE
These overlays are for personal and professional use only, not for further distribution.
Please do not share or sell these files.
-----
This product is being offered as an INSTANT DOWNLOAD. After payment, your product download links will be immediately sent to you by Etsy. If the files are too big to be downloaded on Etsy, you'll get a READ-ME document file which contains direct links to the files. Just copy and paste the link(s) provided inside that file and your product will directly start downloading itself into your computer.
Thank you for checking out MixPixBox digital shop! Feel free to convo me with your questions!
Photos (c) Fotolia
https://www.facebook.com/MixPixBox/
https://twitter.com/MixPixBox
https://www.instagram.com/mixpixbox/
https://www.youtube.com/channel/UCHc2oseTzbcST2aiCFhvTYQ
Keywords: Hot Air Balloon overlays, Balloons, Photoshop overlays, png, digital, aerostat, clipart, clip art, editing