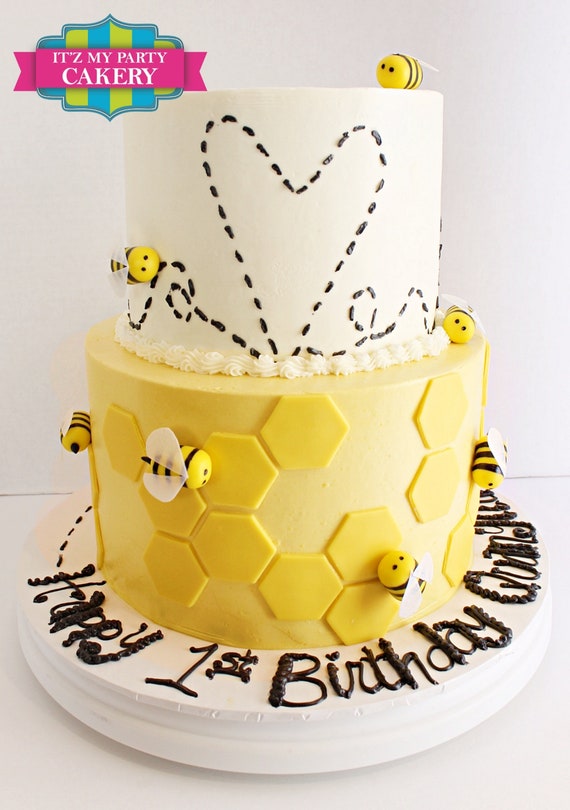 Product Info
Honeycomb & Bumble Bee Fondant Set
Set Consists of:
*25 (twenty-five) Honeycombs (size of honeycomb is based on cake size) (Cake shown is 3 layers of cake: 6" top with 8" bottom - buttercream finished)
*7 (seven) Bumble bees
You can order additional honeycombs or bees if desired by choosing the correct listing option. If you have questions, please ask prior to placing your order.
This does not include the cake.
• Do not refrigerate or freeze your fondant pieces PRIOR to placing them on the cake.
• Keep your fondant pieces in the enclosed packaging until you are ready to place onto your cake and do not get them wet.
• Your fondant pieces can break if dropped or excessive weight is place on them
• If your fondant pieces are not bending easily, place a couple (3-5) pieces into the microwave for 5 sec. intervals to gently warm up and soften. (I am not responsible for any damaged/manipulated/melted/or other/ should your pieces become damaged and un-usable.
• Your fondant pieces are made with 100% food safe products and finishes and are made to order.
• Please note: Every cookie/cupcake topper/cake topper/Cake Pop, Etc., or other is unique and may vary slightly from the photo and from each other. In addition, the specific colors displayed on your viewing device may vary from the actual color.
USPS Priority Shipping. USPS expedited Shipping.