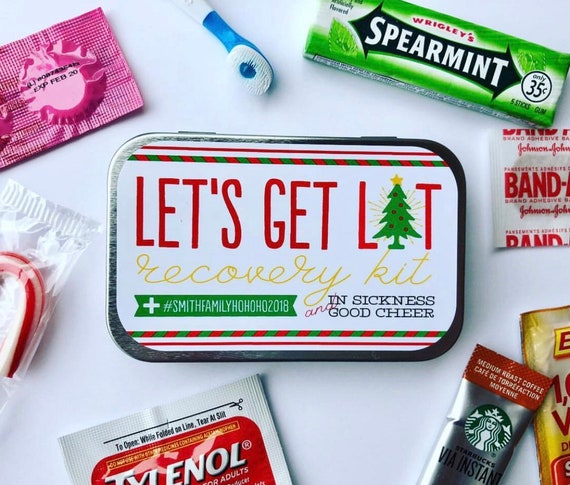 Lets Get Lit Christmas Party Favor Survival Kit Gift, Holiday Hangover Kit Gift Tin, Holiday Work Party Favor for Coworkers
By Sweet Talk Designs
Product Info
Surviving the holidays can be tough! Whether you need Tylenol for your feet from standing in line all day, or a Bandaid when you cut your finger on wrapping paper, or Emergen-C when you feel a cold coming on, these tins will surely come to your rescue!
Perfect as a white elephant gift, holiday bachelorette party favor, or stocking stuffer for that special person in your life.
—>MEASUREMENTS<—
- standard altoid tin size (seen in listing picture) - fits about 10 emergency essentials and measure 3 11/16 x 2 5/16
- larger tin size - fits about 20 emergency essentials and measure 4.25 x 3.125 x 1 inches
Labels are printed on high-quality glossy, weatherproof material. They come adhered to tin, so all you need to do is add your emergency essentials.
Thank you!