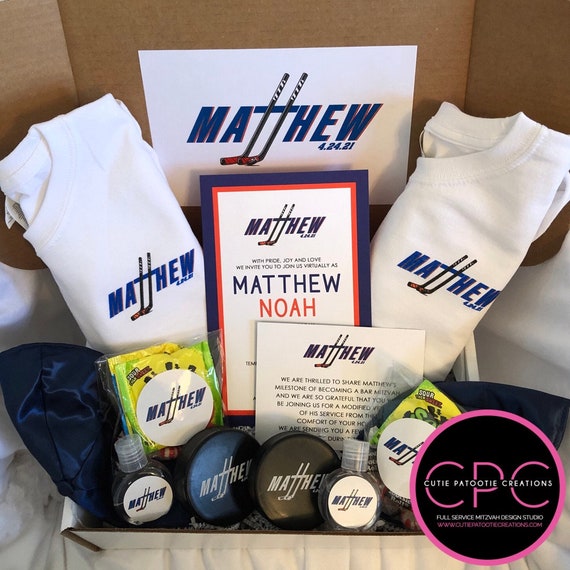 Hockey Themed Mitzvah Guest Box | Virtual Mitzvah Gift Box | Zoom Mitzvah Party Box | Custom Made | See Description for Details
By Cutie Patootie Creations
Product Info
Cutie Patootie Creations can custom design the perfect Mitzvah Guest Box for you to send to your guests to help them celebrate with you near and far. We ship worldwide. Our boxes are curated to work within your budget.
HOW IT WORKS:
-You contact us with your budget.
-We will then provide options available to work within your budget.
-We can ship your boxes to all of your guests or just some of your guests then send you the remaining products for you to hand out locally.
-The possibilities are endless! We offer Personalized Swag, Kippahs, Candy, Welcome Cards, Invitations, Custom Cookies and so much more.
We pride ourselves on our amazing presentation and sticker love is always free with our boxes!
Get in touch today to discuss your upcoming Simcha
-Etsy Convo
-Email - cutiepatootiesnc (at) gmail.com
-Phone - 704.776.0738
-Visit our website direct to view all of our offerings
www. cutiepatootiecreations.com