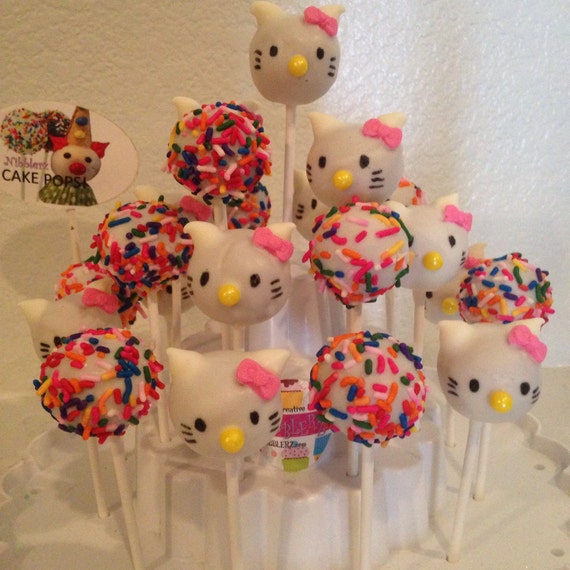 Product Info
These adorable Hello Kitty themed cake pops are a hit at any Hello Kitty themed birthday party. The one dozen Party assortment includes 6 Hello Kitty style cake pops and 6 rainbow birthday pops, for 12 in all.
PLEASE PUT YOUR EVENT DATE ON THE ORDER or DATE YOU WANT THEM TO ARRIVE. Items are made to order and obviously are at their best fresh.
Our cake pops are made the traditional way for a fudgy, truffle-like texture in the center. They are NOT made from a cake ball grilling machine - each one is hand made of moist delicious baked cake, combined with creamy frostings, dipped in chocolate candy and hand decorated with select candy pieces.
ALLERGY WARNING: Our items contain milk, and wheat products and are prepared in a kitchen where nuts are produced. Our items may contain trace amounts of nuts
We ship anywhere in the US using Priority 2-3 day. Boxes are shipped with a frozen snow pack during summer months for freshness but PLEASE NO P.O. BOXES - They ARE coated in chocolate and prolonged exposure to heat will melt them. Thank you!
PLEASE ORDER EARLY, we will make and ship your item as close to the event date as possible, however, cake pops will remain fresh and delicious for up to 2 weeks. Thank you!
Cake pop stand made by Nordic Ware and can be purchased through Amazon.
http://www.amazon.com/gp/offer-listing/B00EENNWDG/ref=dp_olp_new?ie=UTF8&condition=new
For additional photos of custom or designer pops - visit us on Facebook.com/NIBBLERSBAKERY
WATCH YOUR ORDER BEING MADE! Follow us on Instagram.com/Nibblerz_Desserts