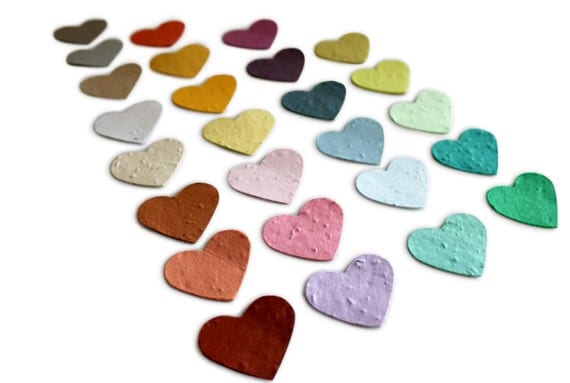 150 Heart Shaped Plantable Paper Seed Wedding Favors and Confetti -- Choose Your Colors for Eco-Friendly Confetti
By Fancy That Loved
Product Info
If you are looking for a beautiful but eco-friendly alternative to confetti, these plantable paper seed hearts are ideal. Containing wildflower seeds, they will naturally bio-degrade and spread the seeds to flower. They make wonderful wedding favors as well. Choose from 26 gorgeous colors (see last slide and please mention in note to seller your color choices). Each heart is 1" x 1". 150 hearts. Made in the USA.
Please leave a note when checking out in the "note to seller" box what color combinations you would like. If nothing is marked a random mixed color variety will be sent out.
Flower: Wildflowers; Bird's Eye - Annual, Clarkia - Annual, Black Eyed Susan - Perennial, Catchfly - Annual, Snapdragon - Annual, English Daisy - Perennial, Sweet Alyssum - Annual
Size: Approximately 1 inch across
Set of 150 hearts --you choose the colors!
How Long to Make: 1 week
How to Plant:
Place the soil in the pot, right to the top. Gently pack the soil, so it's slightly compressed, but not too hard-packed. Place the seed paper on top, and add another thin layer of soil on top of the paper (about one-eighth of an inch).Give your newly planted seed paper a good soak of water right off the bat. After that, just make sure it's always moist. This may mean watering it a little bit every day or two, but just enough to maintain that level of moisture. Just make sure your planted seed paper is in a sunny area, and you should hopefully start seeing some little green sprouts pop up within a few weeks!
**color may vary slightly due to each batch and different computer screen outputs**
Thanks for visiting!