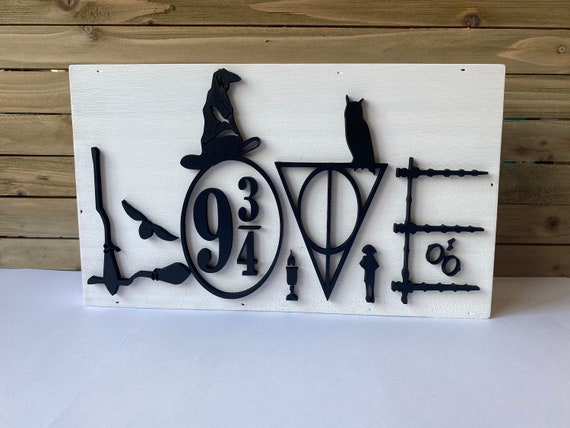 Product Info
Show off your love for the boy who lived with this Harry Potter inspired LOVE sign. Don't be a muggle, make sure you have this displayed in your room or mantle.
PLEASE NOTE:
Each item is handmade and may vary slightly from the picture shown. Materials are purchased upon availability of vendors; if needed I will use like materials to complete my designs. 

CUSTOMIZATIONS AVAILABLE:
Customizations may include size of bow/flower, addition of rhinestones, additional flowers, additional images, etc (I love hearing your creative thoughts here). If you would like to add embellishments; please add $3 per embellishment to your cart as a separate item (Additional Decoration) and indicate what you would like added to your ears in the message section of your order.
WHAT HAPPENS AFTER YOUR ORDER IS PLACED?
Once orders are placed production begins and your countdown of the given schedule starts. It takes about a week for me to make and ship each order but depending on how many orders I have ahead of yours I can get them out sooner or later. If I am behind in schedule I will notify you of my intended ship date.
If you have a firm date in which you need these or an urgent request; please contact me prior to placing your order to ensure that I will have enough time to meet your in hands date. Orders marked as a rush without approval from me will not be honored. Once we have confirmed that your date can be met please select the "Rush Order" option at checkout. If you do not "Rush" your order and make payment for this I will not be able to accommodate your rush request.
PAYMENT:
Orders will be created once payment has been received. 
SHIPPING:
DOMESTIC SHIPPING: 
Transit Time: All domestic orders ship USPS Priority Mail with a 2-5 business day transit from Martinez CA.
INTERNATIONAL SHIPPING: 
Transit Time: International orders will take more time, generally 2-3 weeks, and depending on the location, we will need to discuss cost and delivery dates.
**Orders will be sent to the address provided at checkout. If you have placed your order with incorrect shipping information I will make a personal note in attempt to correct your mistake however I can not guarantee that this change will be made.** 
RUSHED PRODUCTION:
If you need your item to be rushed I am willing to do so during production with an additional fee of $10.00 added to your cart at time of checkout only after we have communicated and agreed that I will in fact have time to be able to meet your request.
It is imperative that you communicate your in hands date to me before you place your order. Not communicating your in hands dates prior to purchase will not help me get these to you any faster and as a result, your rush request may not even be honored.
Please select "Rush Production" at checkout when placing your order - this will expedite the production process only; this does not change the speed of shipping.
RUSHED SHIPPING:
Domestic: Expedited shipping is $19.99 for overnight delivery via USPS Priority Express Mail. This does not however rush production time; only shipping time. You must make payment for this in full at checkout in order for me to ship your order via rushed delivery.
International: Please contact me if you are interested in expedited shipping so that I may provide you with an estimate. This does not however rush production time; only shipping time. You must make payment for this in full at checkout in order for me to ship your order via rushed delivery.
REFUNDS AND EXCHANGES:
Please do contact me if you are unhappy with your item. Since these are hand crafted pieces each is made to be exact of those shown on my site, however, small differences may be present. Each item is carefully produced and inspected by me and will not be sent out unless I feel that they meet the highest standard of perfection I am able to achieve. If you do receive an item with concern please send photographs so that we may discuss how best to resolve the issue.
Items lost by USPS are out of my control and unfortunately will not be considered for refund.