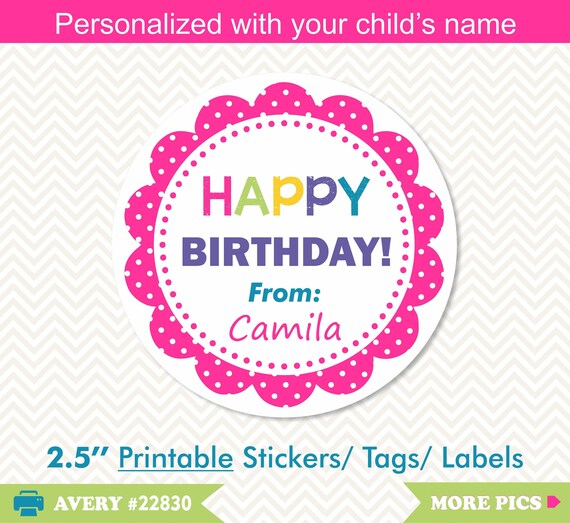 Birthday GIFT Stickers/ Labels/ Personalized Birthday Gift Stickers/ 2.5"/ Happy Birthday Stickers/ Happy Birthday Labels/ Present Stickers
By CreativePartyStudio
Product Info
Uppss...
You're all ready to depart to that Birthday Party..., and here you go again!...I know, I've been there too! I bet you forgot to buy a 'Birthday Card' to include with the gift so the birthday kid knows who's the present from!! But don't worry anymore! ;)
Here is a great idea/ solution to this problem!! ...and never worry to buy a Birthday Card again!!
All you need to do is buy a stack of Avery template#22830 (2.5" round precut labels) at your local convenience store and of course buy this listing... and ta-dahh! You'll be on your way to print your own 2.5" personalized round stickers (or tags) that you can always have in hand to stick to your kids' birthday presents when they have a B-day party to go to ;) Very convenient, affordable, and even better! you can print as many times as you need! over and over!
Round Label Size: 2.5" in diameter
9 labels total p/ sheet.
File Format: PDF
Unlimited Printing!
Turnaround time to received Personalized Labels File is approx. 24hrs.
Thanks for purchasing at my Store!
Please note that all Digital sales are final.
God bless you!
CreativePartyStudio Inc.