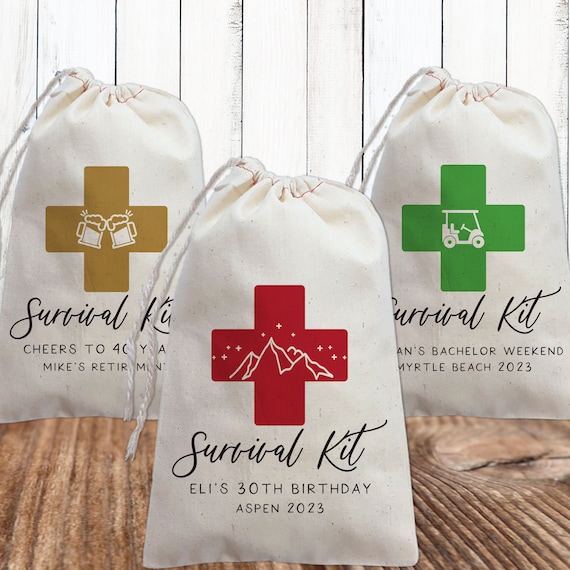 Hangover Kit Bags - Bachelor Party Favor Bags - Mens Birthday Gift Bags - Custom Survival Recovery Kits - Adult Party Supplies + Decorations
By Joy & Chaos
Product Info
Customize a set of these canvas "Survival Kit" gift bags for your next birthday, bachelor party, or any other special event!
𝗣𝗘𝗥𝗦𝗢𝗡𝗔𝗟𝗜𝗭𝗘 𝗬𝗢𝗨𝗥𝗦
• Choose the cross color (red or pink) and icon
• Add 1 or 2 lines of text (using up to 25 characters per line)
*Character limits include spaces & punctuation.
*Text will be printed in lettering style shown: 𝗔𝗟𝗟 𝗖𝗔𝗣𝗦
*No symbols or non-standard characters.
𝙋𝙇𝙀𝘼𝙎𝙀 𝙉𝙊𝙏𝙀:
*Smaller bag sizes are available in a minimum purchase of 2 bags.
*Text that is not entered in the correct format or that exceeds the character limit may result in your order being delayed or rejected.
𝝞𝗖𝝤𝝢 𝗖𝗛𝝤𝝞𝗖𝗘𝗦
• Pinata
• Cactus
• Anchor
• Golf Cart
• Beer
• Wine
• Champagne
• Mountains
• Canoe
• Campfire
• Palm Tree
• Flamingo
• Diamond
• Boots
• Cards
• Fleur de Lis
_________________________
𝗖𝗛𝗘𝗖𝗞 𝗧𝗛𝗘𝗦𝗘 𝗢𝗨𝗧
• Shop all survival kit bags:
https://www.etsy.com/shop/JoyandChaos?search_query=survival
• Shop all hangover kit bags:
https://www.etsy.com/shop/JoyandChaos?search_query=hangover
_________________________