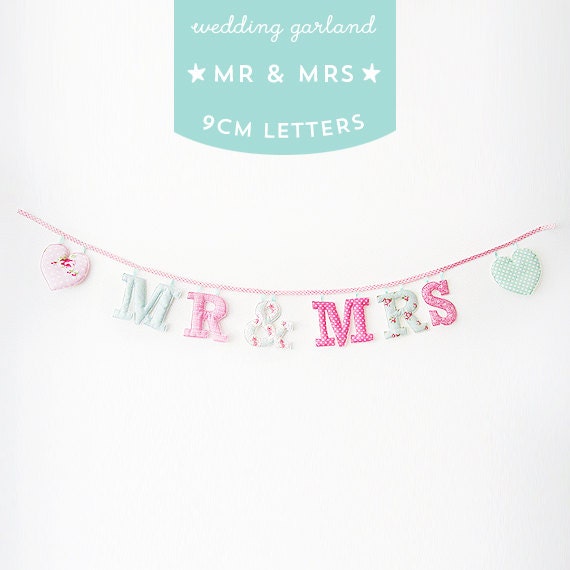 Product Info
MADE TO ORDER - You choose colour and fabrics
This lovely fabric handmade lettered 'MR & MRS'' is made of mixed shabby chic style cotton fabric in beautiful patterns. Perfect as a gift (wedding or to a love one)to be used as wall decoration. Why say it with a card when you can say it with a garland that can decorate a wall?
Each letter is padded and is roughly 9.5cm x 10cm (3.7'' x 4'') in size. The whole garland is about 130 cm ( 51'').
The ribbon left over on the end of each side of the garland is long enough to tie. The best way to fix to a wall is with blue tac. 
The garland also comes in it's own beautiful matching fabric pouch tied with a little ribbon.
To order just state in the number of the color palette of your choice.
Once your order is received I will send you my fabric selection for your color palette. Once you have confirmed the fabrics I will start working on them.
Each garland takes roughly two weeks to be made and dispatched to your address.
If you wish you send this item as a gift I'd be happy to ship it directly to whoever you want. Just include details in the notes section as you check out.
Garlands cannot be machine washed (spot-clean only).
Please visit my Facebook page for news on recent projects
www.facebook.com/loveprettygarlands