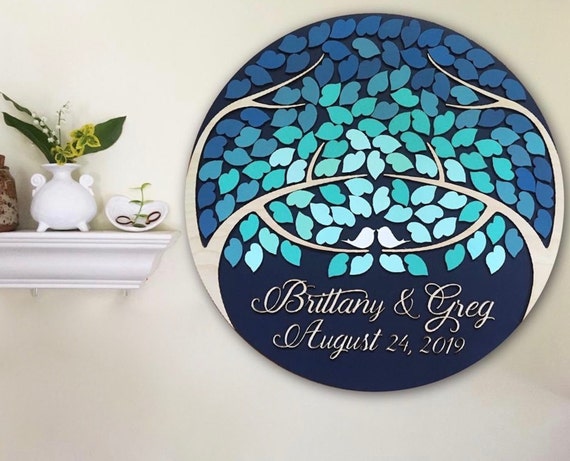 Guest book alternative round wood sign blue ombre guestbook with personalized names and date, two families come as one, family trees join
By Sign You Style
Product Info
Guest book alternative round wood sign blue ombre guestbook with personalized names and date, two families come as one, family trees join Personalized with your names and wedding date to make this into a meaningful piece that can be displayed in your home once all your guests sign.
Guestbook sizes (the sign will have a diameter of):
-15" (fits 20 to 75 leaves)
-17.5" (75 leaves to 135 leaves)
-24" (150 leaves to 300 leaves)
Please select your size and number of leaves. If using for signatures at a wedding or anniversary event you can choose one leaf per guest or per couple/family. The little heart leaves are approx. 1.4 x 1" (36 mm x 25 mm) to 2"x1.4", we may apply slightly larger leaf-hearts to make the composition nice and balanced. The example is made with approximately 120 leaves on a 17.5" round board.
If you are using this sign as a guest book for guests to sign their names we are offering a little heart sign as seen in the 5th picture. Made on a 5"x5" heart shape on a holder and is engraved with the text:"Please sign our guest book" is a lovely add on and can be ordered selecting the option +sign from the drop down menu. Please note that the sign is only added if you select it when ordering, otherwise the guest book comes without the little heart sign.
The guest book is made entirely of 1/8" birch wood, including the custom names and date. The leaves are manually painted and the colors can be customized, please add a note if you prefer a different color scheme than the blue-turquoise aqua ombre shown on the navy background. We can also personalize the birds color, please add a note if you wish to change any colors. If there is no note on the colors, we'll just make the sign with the exact colors shown in the example: navy background, white birds and blue ombre for the leaves.
We provide a hanger for the guest book for easy hanging in your home. No framing necessary.
See this round guest book in other color combos:
In pink/ blush:
https://www.etsy.com/listing/933806581/guest-book-alternative-round-3d-wood?ref=shop_home_active_2&frs=1
Green:
https://www.etsy.com/listing/969218091/guest-book-alternative-round-3d-wood?ref=shop_home_active_23&frs=1
Purple, lavender:
https://www.etsy.com/listing/955243368/guest-book-alternative-round-3d-wood?ref=shop_home_active_1&frs=1
A great wedding piece for all your guests to sign and a stunning piece to add to your home decor.
Copyright © SignYouStyle 2021