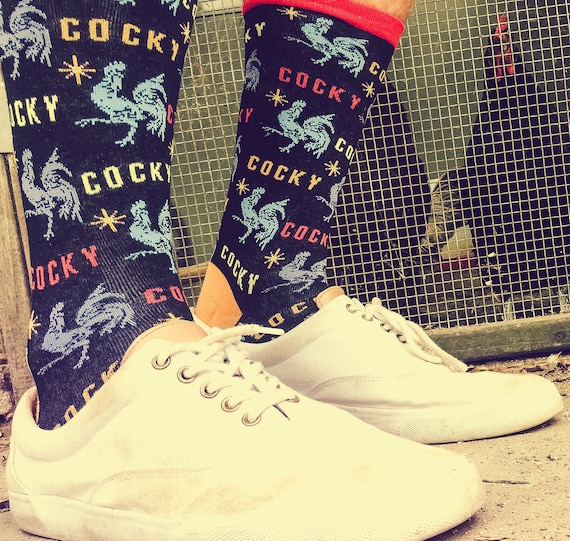 Groomsmen Socks, Funny Chicken Socks, Cocky Socks Man, Funky Cockerel Socks, Mens Novelty Socks, Cool Quote Socks, Funny Socks Men
By CrazyDog T-shirts
Product Info
🔆30% OFF SUMMER SALE FOR OUR BEST SELLING SOCKS 🔆
Make sure to place an order while the stock lasts. In case you missed it, please send us a message, we will update you when we have these socks back in stock again
Men's
Sock Size 10-13
Fits Shoe Size 7-12
Women's
Sock Size 9-11
Fits Shoe Size 5-10.5
Youth
Sock Size 7.5-10
HERES THE SCOOP ON OUR SOCKS:
-Professionally embroidered for a quality sock that feels and looks great!
-Our own special blend consisting of 70% cotton, 30% spandex, and 100% awesome.
-We design all of our socks in-house but use our production partner to produce them.
-There's no right or wrong way to wear 'em. Feet, hands, whatever. Left is right and right is left with these bad boys.
HOW TO LOVE YOUR SOCKS:
-Machine washable.
-We recommend washing them inside out in cold water and then hang drying them.
-Don't iron your socks, people!
TRUST THE PROCESS :
-Please allow 3-5 business days for shipping and handling. (It usually takes 2-3 days but ya know... Post Office.)
-We ship internationally too. That can take up to 3 weeks depending on where you call home. For more information on APO or FPO shipping, please click here.
Follow us on Instagram @CrazyDogTshirts for new releases and sweet deals. High five for shopping small with us!
--Bill & Brie
▄▄▄▄▄▄▄▄▄▄▄▄▄▄▄▄▄▄▄▄▄▄▄▄▄▄▄▄▄▄▄▄▄▄▄▄▄▄▄▄▄▄▄▄▄▄▄▄▄
SHIPPING INFORMATION
All orders placed on our website will ship out next business day regardless of the shipping option chosen. Orders placed after 9am on Friday will ship out the following Monday. For all package delivery times, a 'business day' is considered any day Monday - Friday and does not include public holidays and weekends. Please visit USPS.com for a full list of Federal Holidays when mail will not be delivered.
Crazy Dog T shirts can fulfill Domestic, APO, and International orders. Depending on your specific location and Shipping selections, our estimated shipping times are listed below. For more information on APO or FPO shipping, please click here. Please note that all items in your order must be in stock before your order ships. If the items are not in stock, order time can exceed stated time.
Items shipping to areas outside the US usually take between 18-20 business days to arrive.
▄▄▄▄▄▄▄▄▄▄▄▄▄▄▄▄▄▄▄▄▄▄▄▄▄▄▄▄▄▄▄▄▄▄▄▄▄▄▄▄▄▄▄▄▄▄▄▄▄
We've got you covered (literally!) with your favorite funny shirts for Men, Women, and Kids from the 80's, 90's and more!
Check out some of our other cool shirts printed on our super soft apparel. You'll love the fit and feel.