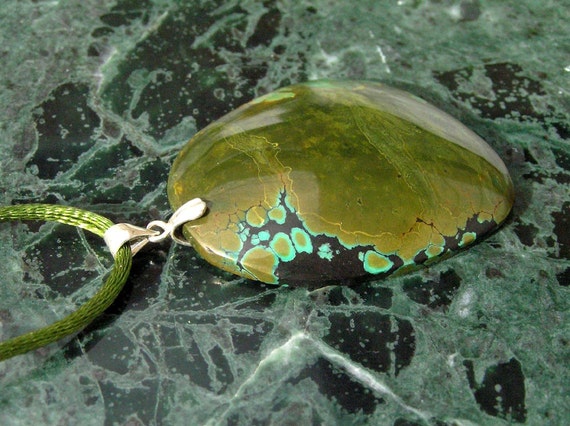 Green Turquoise Oval Pendant Necklace with Sterling Silver Bail & Green Satin Cord
By GuRu Designs
Product Info
Please use Guru Designs discount code MYSTIC10 during checkout for 10% off your purchase of one or more items.
Free beautiful silk gift bag with each jewelry item!
------------------------------------------------------------------
Beautiful Green Turquoise Oval Pendant Necklace with Sterling Silver Bail & Green Satin Cord with Silver Tone Lobster-Claw Clasp.
Turquoise is one of the oldest protection amulets, and was also known as a symbol of wealth in many ancient cultures. Turquoise helps to open the lines of communication between the heart and the spoken word.
Turquoise is sometimes worn as protection for liver, eye and throat ailments and afflictions. It protects the wearer against untoward happenings, accidental death or violence of any kind. Turquoise denotes courage and love, is a symbol of youth, vitality and innocence, and bestows a sense of general well being to the wearer.
Astrological Sign: Sagittarius
Green Turquoise Oval Pendant is 43mm x 35mm x 7mm
Sterling Silver (.925) Pinch Bail
Green Satin Cord with Silver Tone Clasp - 18"
1 inch = 25.5mm
Also check out NeoWare - our Ancient Gemstone Shop at: